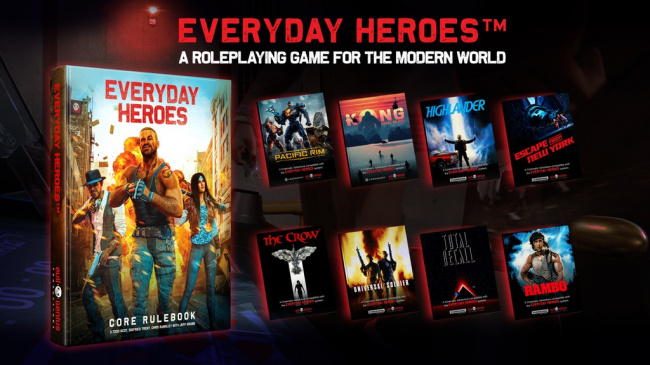 Evil Genius Games will release
Everyday Heroes TTRPG: Core Book
and the Cinematic Adventures campaign setting line into retail in 2023.
Everyday Heroes TTRPG is a 5E system inspired by the d20 Modern RPG (see 'Wizards of the Coast Announces d20 Modern'). This TTRPG was funded on Kickstarter, where it raked in $395,552 from 4,215 backers (about $94 per backer). RPG sessions for this game can be played out in various modern campaign settings, or in the campaign settings from their new Cinematic Adventures line.The Everyday Heroes TTRPG Core Rulebook hits stores in February or March 2023 and will retail for $50.
Evil Genius has eight Cinematic Adventures campaign setting books, based on various IPs from companies like Legendary Entertainment, STUDIOCANAL, and Pressman Filmscoming, out in 2023. Each of these campaign settings comes as a 112-page softcover, and will have an MSRP of $25.The 2023 release schedule is as follows:
The Crow (February/March)
Pacific Rim (April/May)
Kong: Skull Island (April/May)
Total Recall (June/July)
Highlander (June/July)
Rambo (August/September)
Universal Soldier (August/September)
Evil Genius will release a 2022 Rules Compilation (MSRP $40) into retail in November/December 2023.
The company launched a third party licensing program that allows games publishers to create their own RPGs to use with Everyday Heroes TTRPG. Luke Gygax's Gaxx Worx has already signed up to use this third party license with their new Strange & Grim horror campaign setting that will be launching on Kickstarter in October 2022.
Evil Genius has hired Owen K.C. Stephens (see "Paizo Hires Owen K.C. Stephens") as their new Editor-in-Chief. He will helm the Evil Genius' team for the Everyday Heroes books as well be the lead writer on the Kong: Skull Island book.