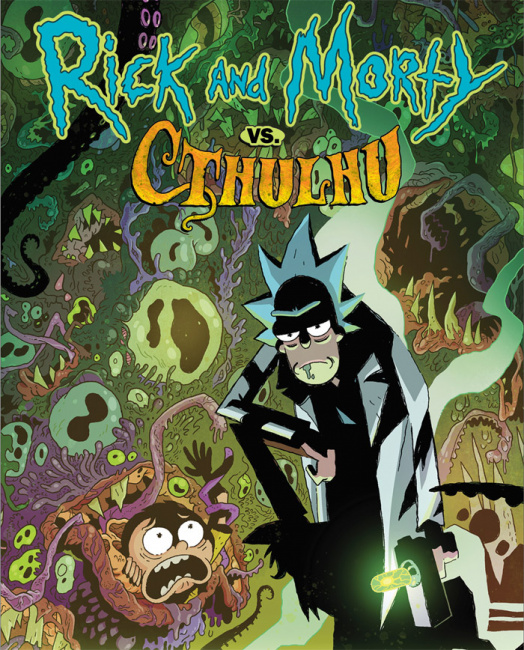 Writer Jim Zub and artist Troy Little, the creative team behind
Rick and Morty vs. Dungeons & Dragons,
are back with a new four-issue miniseries,
Rick and Morty vs. Cthulhu Part 1: The Whisper in the Dorkness,
launching on December 7, 2022, from the Oni-Lion Forge Publishing Group. The miniseries brings the cartoon pair together with the creations of H.P. Lovecraft, expanding on the brief glimpses of Cthulhu in the opening credits (and lately, Baby Cthulhu in the closing credits) of the Adult Swim show. The first issue will have cover art by Little and variants by Zander Cannon, Marc Ellerby, Zub, Julieta Colas, and Ryan Lee.
"Lovecraft horror has stuck around for decades because it asks important questions like 'Does humanity matter in the face of an unfeeling unknowable universe?'" Zub said in a statement accompanying the announcement. "Rick and Morty ask equally pertinent questions about ourselves, our existence, and the jerks who create our pop culture, so I figured it was time to peanut butter that chocolate and take a big bite."
Rick and Morty vs. Dungeons & Dragons was one of the top sellers of 2020 (see "Full Year 2020 NPD BookScan") and was nominated for a 2022 Eisner Award
Click Gallery below for covers!