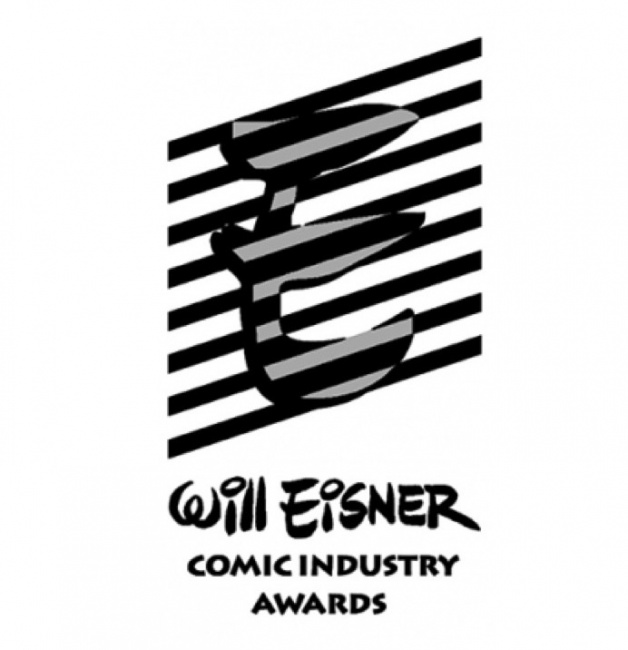 Comic-Con International has announced the nominations for the 2023 Eisner Awards, and they include writer Rob Salkowitz, who writes a regular column for ICv2 and also contributes to Forbes and Publishers Weekly. Salkowitz was nominated in the Best Comics-Related Periodical/Journalism category.
Image Comics had the highest number of nominations by far, with 20 nominations plus 6 shared, followed by DC (11 plus 5 shared), Fantagraphics (13 nominations), Marvel (9 plus 3 shared), and Dark Horse (9 plus 2 shared).
This year's Eisner judges, who chose the nominees, are librarian Moni Barrette, educator and collector Peter Jones, retailer Jen King, journalist Sean Kleefeld, scholar and comics creator A. David Lewis, and comics instructor and curator TJ Shevlin.
All professionals in the comics industry are eligible to vote in the Eisner Awards; the deadline for new voters to register is June 2 and the deadline for voting is June 9. The awards will be presented at a ceremony on July 21 at Comic-Con International in San Diego.
Best Short Story
"The Beekeeper's Due," by Jimmy Stamp and Débora Santos, in Scott Snyder Presents: Tales from the Cloakroom (Cloakroom Comics)
"Finding Batman" by Kevin Conroy and J. Bone in DC Pride 2022 (DC)
"Good Morning," by Christopher Cantwell and Alex Lins, in Moon Knight: Black, White & Blood #4 (Marvel)
"Silent All These Years," by Margaret Atwood and David Mack, in Tori Amos: Little Earthquakes (Z2)
"You Get It," by Jonathan Hickman and Marco Checchetto, in Amazing Fantasy #1000 (Marvel)
Best Single Issue/One-Shot
Batman: One Bad Day: The Riddler, by Tom King and Mitch Gerads (DC)
Mary Jane & Black Cat Beyond, by Jed Mackay and C. F. Villa (Marvel)
Moon Knight: Black, White, and Blood #3, edited by Tom Brevoort (Marvel)
Star Trek #400, edited by Heather Antos (IDW)
A Vicious Circle Book 1, by Mattson Tomlin and Lee Bermejo (BOOM! Studios)
Best Continuing Series
Daredevil, by Chip Zdarsky, Marco Checchetto and Rafael de Latorre (Marvel)
The Department of Truth, by James Tynion IV and Martin Simmonds (Image)
Killadelphia, by Rodney Barnes and Jason Shawn Alexander (Image)
The Nice House on the Lake, by James Tynion IV and Alvaro Martinez Bueno (DC)
Nightwing, by Tom Taylor and Bruno Redondo (DC)
She-Hulk, by Rainbow Rowell, Rogê Antônio, Luca Maresca, and Takeshi Miyazawa (Marvel)
Best Limited Series
Animal Castle, by Xavier Dorison and Felix Delep (Ablaze)
Batman: One Bad Day, edited by Dave Wielgosz and Jessica Berbey (DC)
The Human Target, by Tom King and Greg Smallwood (DC)
Miracleman by Gaiman & Buckingham: The Silver Age, by Neil Gaiman and Mark Buckingham (Marvel)
Superman: Space Age, by Mark Russell, Michael Allred, and Laura Allred (DC)
Best New Series
The Atonement Bell, by Jim Ousley and Tyler B. Ruff (Red 5)
Love Everlasting, by Tom King and Elsa Charretier (Image)
Public Domain, by Chip Zdarsky (Image)
Star Trek, by Collin Kelly, Jackson Lanzing, and Ramon Rosanas (IDW)
Traveling to Mars, by Mark Russell and Roberto Meli (Ablaze)
Best Publication for Early Readers (up to age 8)
Beneath The Trees: A Fine Summer, by Dav (Magnetic Press)
Fox + Chick: Up and Down: and Other Stories, by Sergio Ruzzier (Chronicle Books)
Grumpy Monkey Who Threw That? by Suzanne Lang and Max Lang (Random House Studio)
Hey, Bruce!: An Interactive Book, by Ryan Higgins (Disney/Hyperion)
The Pigeon Will Ride the Roller Coaster! by Mo Willems (Union Square Kids)
Best Publication for Kids (ages 9-12)
Adventuregame Comics: Leviathan, by Jason Shiga (Amulet/Abrams)
Frizzy, by Claribel A. Ortega and Rose Bousamra (First Second/Macmillan)
Isla To Island, by Alexis Castellanos (Atheneum/Simon & Schuster)
Little Monarchs, by Jonathan Case (Margaret Ferguson Books/Holiday House)
Swim Team, by Johnnie Christmas (HarperAlley)
Best Publication for Teens (ages 13-17)
Chef's Kiss, by Jarrett Melendez and Danica Brine (Oni)
Clementine Book One, by Tillie Walden (Image Skybound)
Do A Powerbomb! by Daniel Warren Johnson (Image)
Heartstopper Vol. 4, by Alice Oseman (Scholastic Graphix)
Wash Day Diaries, by Jamila Rowser and Robyn Smith (Chronicle Books)
Best Humor Publication
Cryptid Club, by Sarah Andersen (Andrews McMeel)
I Hate This Place, by Kyle Starks and Artyom Topilin (Image Skybound)
Killer Queens, by David Booher and Claudia Balboni (Dark Horse)
Mr. Lovenstein Presents: Failure, by J. L. Westover (Image Skybound)
Revenge of the Librarians, by Tom Gauld (Drawn & Quarterly)
Best Anthology
Creepshow, edited by Alex Antone and Jon Moisan (Image Skybound)
The Illustrated Al: The Songs of "Weird Al" Yankovic, edited by Josh Bernstein (Z2)
The Nib Magazine, edited by Matt Bors (Nib)
Sensory: Life on the Spectrum, edited by Bex Ollerton (Andrews McMeel)
Tori Amos: Little Earthquakes, The Graphic Album, edited by Rantz Hoseley (Z2)
Best Reality-Based Work
Alfred Hitchcock: The Master of Suspense, by Noël Simsolo and Dominique Hé, translation by Montana Kane (NBM)
Alice Guy: First Lady of Film, by José-Louis Bocquet and Catel Muller, translation by Edward Gauvin (SelfMadeHero)
But I Live: Three Stories of Child Survivors of the Holocaust, edited by Charlotte Schallié (University of Toronto Press)
Flung Out of Space, by Grace Ellis and Hannah Templer (Abrams ComicArts)
Invisible Wounds: Graphic Journalism, by Jess Ruliffson (Fantagraphics)
Pinball: A Graphic History of the Silver Ball, by Jon Chad (First Second/Macmillan)
Best Graphic Memoir
Down to the Bone: A Leukemia Story, by Catherine Pioli, translated by J. T. Mahany (Graphic Mundi/Penn State University Press)
Ducks: Two Years in the Oil Sands, by Kate Beaton (Drawn & Quarterly)
It's Lonely at the Centre of the Earth: An Auto-Bio-Graphic-Novel, by Zoe Thorogood (Image)
So Much for Love: How I Survived a Toxic Relationship, by Sophie Lambda (First Second/Macmillan)
Welcome to St. Hell: My Trans Teen Misadventure, by Lewis Hancox (Scholastic Graphix)
Best Graphic Album—New
The Book of Niall, by Barry Jones (Ellie & Beatty)
Crushing, by Sophie Burrows (Algonquin Young Readers)
Francis Rothbart! The Tale of a Fastidious Feral, by Thomas Woodruff (Fantagraphics)
The Night Eaters, Book 1: She Eats the Night, by Marjorie Liu and Sana Takeda (Abrams ComicArts)
Ultrasound, by Conor Stechschulte (Fantagraphics)
Best Graphic Album—Reprint
Days of Sand, by Aimée de Jongh, translation by Christopher Bradley (SelfMadeHero)
Geneviève Castrée: Complete Works, by Geneviève Castrée, translation by Phil Elverum and Aleshia Jensen (Drawn & Quarterly)
Mazebook Dark Horse Direct Edition, by Jeff Lemire (Dark Horse)
One Beautiful Spring Day, by Jim Woodring (Fantagraphics)
Parker: The Martini Edition—Last Call, by Richard Stark, Darwyn Cooke, Ed Brubaker, and Sean Phillips (IDW)
Super Spy Deluxe Edition, by Matt Kindt (Dark Horse)
Best Adaptation from Another Medium
Chivalry by Neil Gaiman, adapted by Colleen Doran (Dark Horse)
Rain by Joe Hill, adapted by David M. Booher and Zoe Thorogood (Syzygy/Image)
Ten Days in a Madhouse, by Nellie Bly, adapted by Brad Ricca and Courtney Sieh (Gallery 13/Simon $ Schuster)
Tori Amos: Little Earthquakes, The Graphic Album, edited by Rantz Hoseley (Z2)
A Visit to Moscow by Rabbi Rafael Grossman, adapted by Anna Olswanger and Yevgenia Nayberg (Turner)
Best U.S. Edition of International Material
Always Never, by Jordi Lafebre, translation by Montana Kane (Dark Horse)
Blacksad: They All Fall Down Part 1, by Juan Díaz Canales and Juanjo Guarnido, translation by Diana Schutz and Brandon Kander (Dark Horse)
Down to the Bone: A Leukemia Story, by Catherine Pioli, translation by J. T. Mahany (Graphic Mundi/Penn State University Press)
The Pass, by Espé, translation by J.T. Mahany (Graphic Mundi/Penn State University Press)
Tiki: A Very Ruff Year, by David Azencot and Fred Leclerc, translation by Nanette McGuinness (Life Drawn/Humanoids)
Best U.S. Edition of International Material—Asia
Black Paradox, by Junji Ito, translation by Jocelyne Allen (VIZ Media)
The Hellbound vols. 1-2, by Yeon Sang-ho and Choi Gyu-seok, translation by Danny Lim (Dark Horse)
Look Back, by Tatsuki Fujimoto, translation by Amanda Haley (VIZ Media)
PTSD Radio vol. 1, by Masaaki Nakayama, translation by Adam Hirsch (Kodansha)
Shuna's Journey, by Hayao Miyazaki; translation by Alex Dudok de Wit (First Second/Macmillan)
Talk to My Back, by Yamada Murasaki, translation by Ryan Holmberg (Drawn & Quarterly)
Best Archival Collection/Project—Strips (at least 20 years old)
Bungleton Green and the Mystic Commandos, by Jay Jackson (New York Review Comics)
Come Over Come Over, It's So Magic, and My Perfect Life, by Lynda Barry (Drawn & Quarterly)
The George Herriman Library: Krazy & Ignatz 1922-1924, by George Herriman, edited by J. Michael Catron (Fantagraphics)
Macanudo: Welcome to Elsewhere, by Liniers, edited by Gary Groth (Fantagraphics)
Pogo The Complete Syndicated Comic Strips: Volume 8: Hijinks from the Horn of Plenty, by Walt Kelly, edited by Mark Evanier and Eric Reynolds (Fantagraphics)
Best Archival Collection/Project—Comic Books (at least 20 Years Old)
The Deluxe Gimenez: The Fourth Power & The Starr Conspiracy, by Juan Gimenez, edited by Alex Donoghue and Bruno Lesigne (Humanoids)
The Fantastic Worlds of Frank Frazetta, edited by Dian Hansen (TASCHEN)
Home to Stay! The Complete Ray Bradbury EC Stories, by Ray Bradbury and various; edited by J. Michael Catron (Fantagraphics)
The Simpsons Treehouse of Horror Ominous Omnibus 1 (Abrams ComicArts)
Walt Disney's Uncle Scrooge: The Diamond Jubilee Collection, by Carl Barks; edited by David Gerstein (Fantagraphics)
Best Writer
Grace Ellis, Flung Out of Space (Abrams ComicArts)
Tom King, Batman: Killing Time, Batman: One Bad Day, Gotham City: Year One, The Human Target, Supergirl: Woman of Tomorrow (DC); Love Everlasting (Image)
Mark Russell, Traveling to Mars (Ablaze), One-Star Squadron, Superman: Space Age (DC); The Incal: Psychoverse (Humanoids)
James Tynion IV, House of Slaughter, Something Is Killing the Children, Wynd (BOOM! Studios); The Nice House on the Lake, The Sandman Universe: Nightmare Country (DC), The Closet, The Department of Truth (Image)
Chip Zdarsky, Stillwater (Image Skybound); Daredevil (Marvel)
Best Writer/Artist
Sarah Andersen, Cryptid Club (Andrews McMeel)
Kate Beaton, Ducks: Two Years in the Oil Sands (Drawn & Quarterly)
Espé, The Pass (Graphic Mundi/Penn State University)
Junji Ito, Black Paradox, The Liminal Zone (VIZ Media)
Zoe Thorogood, It's Lonely at the Centre of the Earth (Image)
Best Penciller/Inker or Penciller/Inker Team
Jason Shawn Alexander, Killadelphia, Nita Hawes' Nightmare Blog (Image)
Alvaro Martínez Bueno, The Nice House on the Lake (DC)
Sean Phillips, Follow Me Down, The Ghost in You (Image)
Bruno Redondo, Nightwing (DC)
Greg Smallwood, The Human Target (DC)
Best Painter/Multimedia Artist (interior art)
Lee Bermejo, A Vicious Circle (BOOM! Studios)
Felix Delep, Animal Castle (Ablaze)
Daria Schmitt, The Monstrous Dreams of Mr. Providence (Europe Comics)
Sana Takeda, The Night Eaters: She Eats the Night (Abrams ComicArts); Monstress (Image)
Zoe Thorogood, Rain (Syzygy/Image)
Thomas Woodruff, Francis Rothbart! The Tale of a Fastidious Feral (Fantagraphics)
Best Cover Artist (for multiple covers)
Jen Bartel, She-Hulk (Marvel)
Bruno Redondo, Nightwing (DC)
Alex Ross, Astro City: That Was Then . . . (Image); Fantastic Four, Black Panther (Marvel)
Sana Takeda, Monstress (Image)
Zoe Thorogood, Joe Hill's Rain (Syzygy/Image)
Best Coloring
Jordie Bellaire, The Nice House on the Lake, Suicide Squad: Blaze (DC); Antman, Miracleman by Gaiman & Buckingham: The Silver Age (Marvel)
Jean-Francois Beaulieu, I Hate Fairyland 2022, Twig (Image)
Dave McCaig, The Incal: Psychoverse (Humanoids)
Jacob Phillips, Follow Me Down, The Ghost in You, That Texas Blood (Image)
Alex Ross and Josh Johnson, The Fantastic Four: Full Circle (Abrams ComicArts)
Diana Sousa, Critical Role: Vox Machina Origins; The Mighty Nein Origins: Yasha Nydoorin; The Mighty Nein Origins: Fjord Stone; The Mighty Nein Origins: Caleb Widogast (Dark Horse)
Best Lettering
Pat Brosseau, Batman: The Knight, Wonder Woman: The Villainy of Our Fears (DC): Creepshow, Dark Ride, I Hate This Place, Skybound Presents: Afterschool (Image Skybound)
Chris Dickey, The Night Eaters: She Eats the Night (Abrams ComicArts)
Todd Klein, Chivalry (Dark Horse); Fables (DC); Miracleman by Gaiman & Buckingham: The Silver Age (Marvel)
Nate Piekos, Black Hammer Reborn, Minor Threats, Shaolin Cowboy, Stranger Things: Kamchatka (Dark Horse), I Hate Fairyland, Twig (Image)
Stan Sakai, Usagi Yojimbo (IDW)
Thomas Woodruff, Francis Rothbart! The Tale of a Fastidious Feral (Fantagraphics)
Best Comics-Related Periodical/Journalism
Alter Ego, edited by Roy Thomas (TwoMorrows)
Comic Book Creator, edited by Jon B. Cooke (TwoMorrows)
The Comics Journal #308, edited by Gary Groth, Kristy Valenti, and Rachel Miller (Fantagraphics)
PanelXPanel magazine, edited by Hassan Otsmane-Elhaou and Tiffany Babb)
Rob Salkowitz, Forbes, ICv2, Publishers Weekly
Best Comics-Related Book
The Art of the News: Comics Journalism, edited by Katherine Kelp-Stebbins and Ben Saunders (Oregon State University Press)
Charles M. Schulz: The Art and Life of the Peanuts Creator in 100 Objects, by Benjamin L. Clark and Nat Gertler (Schulz Museum)
The Charlton Companion, by Jon B. Cooke (TwoMorrows)
Gladys Parker: A Life in Comics, A Passion for Fashion, by Trina Robbins (Hermes Press)
Resurrection: Comics in Post-Soviet Russia, by José Alaniz (Ohio State University Press)
Best Academic/Scholarly Work
Bandits, Misfits, and Superheroes: Whiteness and Its Borderlands in American Comics and Graphic Novels, by Josef Benson and Doug Singsen (University Press of Mississippi)
Graphic Medicine, edited by Erin La Cour and Anna Poletti (University of Hawai'i' Press)
How Comics Travel: Publication, Translation, Radical Literacies, by Katherine Kelp-Stebbins (Ohio State University Press)
The LGBTQ+ Comics Studies Reader: Critical Openings, Future Directions, edited by Alison Halsall and Jonathan Warren (University Press of Mississippi)
Teaching with Comics and Graphic Novels, by Tim Smyth (Routledge)
Best Publication Design
Francis Rothbart! The Tale of a Fastidious Feral, designed by Thomas Woodruff, Jacob Covey, and Ryan Dinnick (Fantagraphics)
A Frog in the Fall (and later on), designed by Linnea Sterte, Olle Forsslöf, and Patrick Crotty (PEOW)
Joan Jett & the Blackhearts 40X40: Bad Reputation/I Love Rock-n-Roll, designed by Josh Bernstein and Jason Ullmeyer (Z2)
Mazebook Dark Horse Direct Edition, designed by Tom Muller (Dark Horse)
Parker: The Martini Edition—Last Call, designed by Sean Phillips (IDW)
Tori Amos: Little Earthquakes, The Graphic Album, designed by Lauryn Ipsum (Z2)
Best Webcomic
Deeply Dave, by Grover
Delilah Dirk: Practical Defence Against Piracy, by Tony Cliff
The Mannamong, by Michael Adam Lengyel
Spores, by Joshua Barkman
Best Digital Comic
All Princesses Die Before Dawn, by Quentin Zuttion, translation by M. B. Valente (Europe Comics)
Barnstormers, by Scott Snyder and Tula Lotay (Comixology Originals)
Behind the Curtain, by Sara del Giudice, translation by M. B. Valente (Europe Comics)
Ripple Effects, by Jordan Hart, Bruno Chiroleu, Justin Harder, and Shane Kadlecik (Fanbase Press)
Sixty Years in Winter, by Ingrid Chabbert and Aimée de Jongh, translation by Matt Madden (Europe Comics)