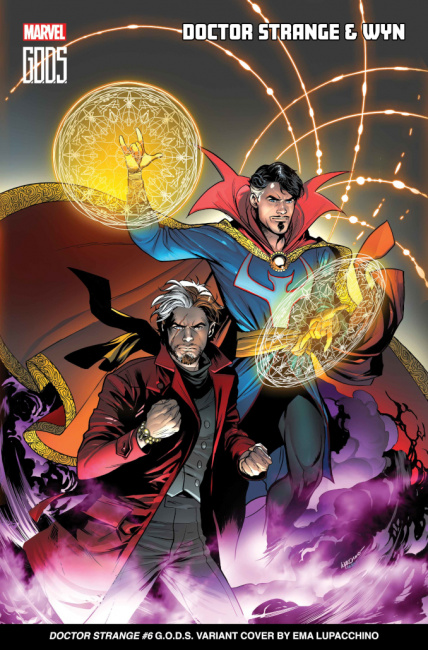 Publisher Description
. Who are the G.O.D.S.? This fall, readers will find out in a new series by Jonathan Hickman and Valerio Schiti. Announced back in March,
G.O.D.S.
will see two of the industry's greatest modern visionaries dramatically redefine Marvel's pantheon of cosmic beings and masterfully deconstruct the forces behind reality. The new saga will introduce a host of new characters—all players in a secret conflict at the crossroads of science and magic!
Heralding their debut, a new line of variant covers this August will spotlight some of the core cast as they team up with heroes and villains from throughout the Marvel Universe. The
G.O.D.S.
variant covers will adorn nine issues that each contain a bonus story page written by Hickman that explore just how these characters move throughout the Marvel Universe and how they interact with its iconic inhabitants like the Doctor Strange, the Guardians of the Galaxy, Scarlet Witch, and more.
Here are the characters spotlighted in the variant covers and bonus pages:
Wyn, a powerful magic expert who's operated in secret for thousands of years and is now forced to come out of the shadows.
Aiko Maki, a high-ranking agent brutally loyal to the ways of science and willing to do anything to keep the building blocks of creation in balance.
Dmitri the Science Boy, Wyn's reckless partner who has a secret mission of his own to discover the dark truth of his past.
Mia the Magic Girl, a young sorcerer struggling to achieve her full potential.
Cubisk Core, a mysterious being of pure corruption seeking to shatter the existing systems.
And more!
On Sale 8/2:
Doctor Strange #6 G.O.D.S. Variant Cover by Ema Lupacchino
Fantastic Four #10 G.O.D.S. Variant Cover by Giuseppe Camuncoli
Moon Knight #26 G.O.D.S. Variant Cover by Salvador Larroca
Scarlet Witch #7 G.O.D.S. Variant Cover by Lucas Werneck
On Sale 8/9:
Guardians of the Galaxy #5 G.O.D.S. Variant Cover by Todd Nauck
On Sale 8/16:
Uncanny Avengers #1 G.O.D.S. Variant Cover by Greg Land
On Sale 8/23:
Amazing Spider-Man #32 G.O.D.S. Variant Cover by Adam Kubert
Immortal Thor #1 G.O.D.S. Variant Cover by Bryan Hitch
Venom #24 G.O.D.S. Variant Cover by Jan Bazaldua
Click Gallery below for full-size images.