Tiny acorns become mighty oaks, we are told. And so in a roundabout way, a mighty oak pillar of the direct market took root in the basement of a TV repair shop in Baltimore in 1974.

That's the secret origin of Steve Geppi, who started as a convention dealer, reluctantly set up a store, saw it expand to eight stores, reluctantly became a distributor, and saw his distribution business (Diamond Comic Distributors) eventually cover almost 100% of the comic market.
Geppi was a comic fan and reader as a youth in the 1950s and 60s. Adulthood called for adult concerns, such as a wife, two kids, and a job delivering for the Post Office. But circa 1972 or so, Geppi peered over a young nephew's shoulder as he read a comic book, and got that nostalgic feeling. He started seeking out old comics. He had a conversation with a woman on his mail route who had a son away in college who had an old comic collection, and after some back-and-forth, Geppi bought the collection. The seed was planted.
"When I bought 'em, I was all about nostalgia," Geppi says today. "I had no idea about value; it wasn't important to me. But around 1973, I discovered the
Overstreet Comic Book Price Guide
, and for the first time, I had an idea that there was value to this. Armed with that, I had duplicates, things I didn't want, and found these conventions to get rid of them. Before you knew it, I was making more money on the weekend at a convention selling comics than I was during the week at my job."
When Geppi was making more money (and having more fun) as a weekend warrior than he was delivering mail, he did what he calls, "the only logical thing: I quit my good government job with good benefits."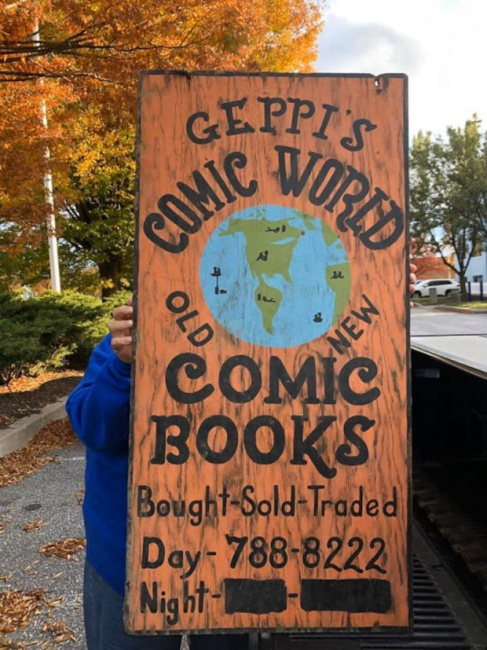 Geppi sacked the mail sack, and found a secret lair. He rented 350 square feet in the basement of a TV repair shop for a whopping $100 a month. Geppi's Comic World was born on July 1, 1974, and was at least pseudo-open to the public.
"Truth be told, it was never meant to be a store," Geppi says. "It was meant to be a base of operations so that during the week, I could bag and price comics and hope to get a phone call about a collection to buy so I could do more at the weekend conventions."
Geppi was taking ads in the
Antique Trader
and buying radio spots, hoping to find more collections to buy. He found a public ready, willing, and able to sell to, and to buy from him.
"Pretty soon, I had a little clientele visiting me to buy old comics," he says. "I didn't have new comics; we didn't want new comics. They were a pain in the ass, lousy discounts and so on." But the tide started to turn.
"The little clientele became regulars, they'd tell friends, and new comics became what seemed to be a necessity," Geppi says. "Other stores were opening, and in order to keep these collectors coming to me, I needed a draw, which the new comics became."
Geppi started expanding with a second store in 1977, and at its peak, eight Geppi's Comic World stores dotted the map in Maryland and Virginia. He got his new comics from New Media/Irjax, one of comics' early direct market distributors, and that led to another unforeseen opportunity.
"I had friends with stores maybe way on the other side of town who came to me because the minimums were too high for them, 25 copies minimum on a title," Geppi says. "They'd say, 'Hey, I want to carry new comics, can you add them on to your order, I don't want to buy in that increment.' I started doing it with five or six guys, and I would break down an order and sell to my whopping six customers."
Just like Geppi didn't want a store, he didn't want to be a distributor, either. But the results started to speak in volume.
"It was a pain in the ass, I didn't want to be a distributor," he says. "It was much more lucrative dealing in old comics. But it kind of grew."
It grew large enough that Geppi started buying direct from Marvel, and when New Media/Irjax ran into financial trouble, Geppi took a chance.
"Their books were on hold for non-payment," he remembers. "I cut a deal with them in 1982 to take over what they had, which was a little pseudo-warehouse in Largo, Florida; one upstairs-warehouse area in Cambridge, Massachusetts, and three sub-distributors, one of which was me. Overnight, I now had employees in different states, drop-shipping to do, all of that."
Diamond Comic Distributors was born, expanded across the nation, bought out Bud Plant's distribution business in 1988 accessing the West Coast, and after massive business shakeups in 1996, became the
de facto
sole distributor in the comics business.
New business shakeups form 2020 to the present have cut into Diamond's distribution business, but Geppi is happy to still be standing, and marvels at how the business has changed.
"In the late '70s, early '80s, business was 90% old comics," he says. "But we didn't have what we have today, there were no graphic novels. Now look at book stores as well, every book store carries comics and graphic novels."
And Geppi sees that early drive, that quest for back issues, as the seed that launched a robust, diverse industry.
"If it wasn't for back issues, there would be no comic book market," he says. "Everyone was dying for a place they could buy old comics."
Geppi thought his first store in 1974 was unique, perhaps the only of its kind. He just didn't know about the others popping up across the country, everyone feeling their way through a nascent business model.
"All of us pretty much had the same experience; we just didn't know it was happening to other people at the time," he laughs. "The stores around the country were doing the same, growing by little and little. As you experience it, you think you're the only one. But you find out going through time and connecting with people… what, was this osmosis? We were all doing the same thing."
And Geppi is glad for those early days in the basement guiding what became the rest of his business for 50 years.
"I saw an industry developing," he says. "I knew there was appeal. I felt it in my bones that there were people who would want this. As a I developed into a distributor and later an exclusive distributor, I always felt this tremendous fiduciary responsibility to the industry as a whole."
Sign photo from Gemstone's
Scoop
.
This article is published as part of ICv2's year-long editorial event around the 50th Anniversary of the Direct Market. For more on the history of the Direct Market, click here.