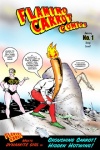 Desperado Publishing, the brainchild of writer/editor Joe Pruett, will be published by Image Comics. Creators already doing work for Desperado include Brian Bolland, P. Craig Russell, Paul Jenkins, Bob Burden, Bernie Wrightson, Brian Stelfreeze, Tony Harris, Jimmy Palmiotti, Andrew Robinson and John McCrea (to name a few).
The first release for Desperado will be the re-birth of Bob Burden's Flaming Carrot, with the first issue of the ongoing quarterly series due this December.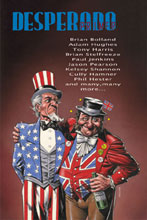 Also coming in December will be the Desperado Primer, a sampler with an introductory price of $1.99, with two original stories and a cover by Brian Bolland. The first, written by Paul Jenkins will have artwork by Adam Hughes, Brian Stelfreeze and others. The second story is a prologue of Roundeye, written and illustrated by Tony Harris.