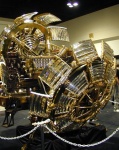 San Diego, California. The San Diego Comic-Con International and Expo wrapped up here today as exhausted exhibitors packed up their wares when the Expo ended at 5 p.m. Exhibitors were particularly drained this year due to the new schedule, which started the consumer show with a Wednesday evening preview session and moved the trade show to Monday to avoid conflict with new comic day on Wednesday. So after a full week of set-up, exhibiting, tearing down, moving, and setting up again for the Expo today (the Expo was held in a scaled-down exhibit hall with lower-key exhibits this year), some exhibitors were definitely feeling the pain. Physical fatigue was tempered, however, by the invigoration from the amount of business done at the two shows.
The consumer show occupied considerably more space this year, which was taken up by more of every type of exhibitor and some new categories. Every year, the diversification from comics accelerates as this show morphs from a comic convention into a pop culture festival. The only category that seemed to have fewer exhibitors this year was games, with WotC a notable no-show that had tongues wagging and competitors gloating about their strong booth traffic.
Marketers appeared to have discovered Comic-con as a place to reach influential individuals and heavy consumers in the highly coveted youth market, and more money is coming into the exhibit hall each year. Dreamworks mounted a major display supporting The Time Machine, with the time machine itself and a variety of other elements promoting the upcoming film in a major island booth.
Hasbro and Mattel both exhibited and both were appropriately near The Time Machine. Walking between their booths was like walking through the 80s, with Mattel pushing Masters of the Universe (see 'He-Man Returns'), and Hasbro touting G.I. Joe. SoBe had a fairly large presence, selling beverages and promoting the brand to the thirsty young consumers. Mrs. Fields was also in the house this year, a development of which we heartily approve.
Anime and manga were huge, with manga in particular blowing out huge quantities. One anime/manga producer told us, 'We went to pack up on Sunday and there was hardly anything left to pack.' Another said, 'We were dealing and selling lots of stuff. It was like a Calcutta bazaar at the end.' Anime-based merchandise also picked up steam. The high-tech Pioneer booth, with flat-screen monitors and a generally understated, classy look was an especially good representative of the anime category.
Floor traffic appeared brisk, with a majority of exhibitors we talked to getting increased sales and traffic. A few talked about the increase in floor space and the associated increase in competition for consumers' time and money, reporting flat or lower sales. The increased number of exhibitors on the the floor definitely kept the fans busy. Sunday afternoon a half-hour before closing, the aisles of the exhibit hall were filled with large numbers of fast-walking fans rushing to get one more purchase in before closing time.
The trade Expo opened with low expectations Monday morning. Attendance has not been strong in recent years, as retailers have stayed away in droves. It was thought that moving the trade show to Monday after the consumer show would help, since retailers would not have to worry about new comic deliveries, which routinely happen on Wednesdays. We note that in most industries, when there's a trade show in conjunction with a consumer show it usually happens first, to give the industry the first chance to hear new information and see new products before the show is opened to the public.
Regardless of the validity of the rationale, it had been rumored that if attendance didn't pick up this year, it would be the last year for the Expo.

We'd even heard within the last couple of weeks that retailer pre-registrations were low enough that the organizers had already made a decision to kill the Expo.

Exhibitor expenses were cut by the more scaled-down exhibit hall to help offset the costs of exhibiting to declining numbers of retailers, and poor attendance was expected.

The scheduling of Diamond-Alliance's retailer events within a couple of months was also expected to suppress attendance.
Surprisingly, almost every exhibitor we talked to was pleasantly surprised with the number of retailers they talked to during the brief five-hour exhibit period.

While there were no crowds, there was a steady flow of retailers buying and collecting information, and a lot of business was done on the floor.

Whether this will be enough to save the Expo remains to be seen.

When we started working on this story we asked Comic-con about the future of the Expo and got a 'No comment.'

Maybe they've given their answer -- in the forms that were handed out to exhibitors for next year's show, a solicitation to reserve space for a 2002 Expo was notably absent.

Stay tuned.