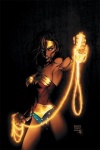 Sales on the top comic titles slid across the board in September, in a normal seasonal decline in sales compared to August. Identity Crisis was the only title in the top five that bucked the trend with an increase, and Teen Titans the only other title in the top 25 that grew.
The increase in sales of Identity Crisis between #3 and #4 wasn't the only sign of strength for the title; #3 sold another 10,000 copies in September, and #2 sold 8,800.
DC had a slightly better showing at the top of the list than usual, with three of the top four books and eight of the top 25. Marvel had the rest of both lists.
Graphic novel numbers were uninspiring, with the top title, the latest Ultimate X-Men volume, selling only around 7,000 copies. The Bone collection, at $39.95, was the top dollar graphic novel, a strong showing for an indy title.
The top 25 comic titles in September, with our estimate of the number sold to comic stores by Diamond Comic Distributors, are as follow:
139,516 Superman/Batman #12
131,552 Astonishing X-Men #5
128,837 Identity Crisis #4
116,827 Superman #209
94,965 Ultimate X-Men #51
94,708 Uncanny X-Men #448
94,174 Ultimate Spider-Man #65
93,839 Uncanny X-Men #449
93,105 Avengers #502
91,054 Avengers #501
90,591 X-Men #161
89,878 X-Men #162
87,620 Ultimate Fantastic Four #11
87,236 Amazing Spider-Man #512
87,221 Ultimate Nightmare #2
84,001 X-Men: The End Bk 1 Dreamers & Demons #3
79,578 Wolverine End #5
71,492 Marvel Knights Spider-Man #6
71,236 Batman #632
65,046 Wolverine #19
64,177 Teen Titans #16
63,136 Teen Titans #15
60,836 JLA #105
59,974 Strange #1
59,838

JLA #106
We are estimating actual sales by Diamond U.S. (primarily to North American comic stores) rather than pre-orders (as we did for the past several years) because Diamond recently changed its reporting and began basing its indexes on actual sales (see 'ICv2 Kicks Off New Top 300 Reporting'). We use those indexes and publisher sales data to estimate a sales number for Batman (the anchor title diamond uses in its calculations), and use that number and the indexes to estimate Diamond's sales on the remaining titles. We can check the accuracy of our numbers by comparing the Batman number that we calculate using multiple data points; our numbers for Batman are within 1/10 of 1% of each other, ensuring a high degree of accurcy.
Because of that change, we will not be able to do year over year comparisons until February of 2004, but in general, it's an improvement to have actual numbers to work with rather than preorders, which have significant differences from sales.