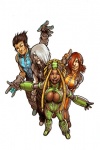 Devil's Due has announced the sell-out of Defex #1, the inaugural book in the company's new Aftermath line.

A second printing is planned.

Aftermath is the imprint of the new Devil's Due superhero universe (see 'Devil's Due Plans Superhero Launch').

It has already been licensed for film, TV, and videogames (see 'Aftermath Licensed').