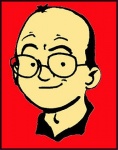 'I Think I Can Manage' is a weekly column by retailer Steven Bates, manager of Bookery Fantasy, a million dollar retail operation in Fairborn, Ohio. This week, Bates gives us his top gift items this season, in three parts. In Part 2, he looks at the game and DVD categories:
Yesterday, I listed a few suggestions that I make to those with comic book fans on their holiday shopping lists. Today I'm rolling the dice, and covering an area I have limited personal knowledge of--games. I'll also extol the virtues of two DVD products I'm giddy about.
Games
First, let me just say that I don't game. Never caught the bug. To paraphrase my Dad, I wouldn't know an orc from a hole in the ground. But I've observed a lot of gamers over the years, and, well, I still don't know diddly-squat about it. So these recommendations come second-hand, based on comments from my staff and customers.
Pirates are hot, and getting hotter. Disney is preparing a sequel to Pirates of the Caribbean, and Kandora, Dark Horse, and Mahrwood Press will all soon be releasing pirate comics. WizKids, the geniuses behind HeroClix, Mage Knight, and MechWarrior, have struck gold with their own Pirates of the Spanish Main game. Essentially a miniatures battle game, with booty to be looted and broadsides to be blasted, part of the appeal of the game is in assembling your fleet, purchased randomly in packs not unlike trading cards. Combining the thrill of the hunt with the thrill of battle, WizKids has captured the black hearts of scoundrels and buccaneers alike, and your matey will be no less taken by Pirates of the Spanish Main and its Crimson Coast expansion.
Another hot item for gamers are HeroClix, also from WizKids. Tiny replicas of heroes from the DC, Marvel, and independent comics universes, these Clix update the traditional miniatures game by placing the figure on a base that tracks the character's stats with the click of a dial. Comic book fans and gamers alike go nuts for Clix, often just to collect the micro-statues of their favorite characters. My friend Jerry customizes Clix, making miniature versions of characters not yet released and improving the details and paint jobs of existing figures. Like other WizKids releases, HeroClix are purchased randomly in sealed booster boxes, though many venues sell singles. Whether the person being gifted is a long-time gamer or a novice, HeroClix makes a great stocking stuffer.
DVDs
I was a latecomer to DVD, holding onto my collection of VHS like a Neanderthal resisting fire or the wheel. But once I saw the picture quality, the smorgasbord of extras, and the generally affordable prices, I was hooked. I'm still conservative about what I buy for our home library, but there are some movies you just shouldn't be without. Spider-Man 2 is one of those films.
Spider-Man 2 is an almost perfect super-hero film, and a darn fine movie in its own right. With a deeper emotional resonance than the first film, and a much stronger, more complicated villain in Alfred Molina's Doctor Octopus, SM2 hits all the right notes. Though the script, by Smallville writers Miles Millar and Alfred Gough and Pulitzer Prize-winner Michael Chabon, covers two very different aspects of Spider-Man's life, the personal and the epic, director Sam Raimi makes it all seamless and tight, like star Tobey Maguire's underoos. The movie gives me chills, and when I took my nine- and five-year-old daughters to see it, they became Spidey fans overnight (I still can't get the youngest off the ceiling). Kirsten Dunst is as beautiful as ever, but J.K. Simmons as Daily Bugle publisher J. Jonah Jameson steals the show. This DVD deserves to go on the shelf right next to Superman: The Movie and X2 (just leave a spot for Disney/Pixar's The Incredibles).
Star Trek The Original Series-Complete Seasons 1-3 is a must-have for any Trekkie, and ought to be in the library of any serious fan of science fiction on film, television history, or pop culture. Star Trek changed not only the face of TV and SF in the 1960's, it radically altered everything from medicine to communications and real-life space travel (Don't believe me? Get on your flip phone and call your doctor to schedule a CAT scan, then look up the space shuttle Enterprise on your Blackberry handheld wireless).
This 24-disk set not only offers up the entire ground-breaking series, it provides extras like interviews with the stars, production art, documentary looks at the Star Trek phenomenon, and pop-up commentaries. The only thing missing is William Shatner and Leonard Nimoy singing. If you've got someone buying gifts for a Trekkie you know groks Spock or trembles for Tribbles, suggest they rush out at Warp Speed and pick up this awesome set. Trust me--they'll be stunned.
Tomorrow, I'll wrap up by unwrapping my selections for the best play-things available this season--and I don't mean the Hugh Hefner kind.