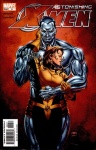 Sales were soft for most of the top comic titles this month, with five out of the top ten and 16 out of the top 25 dropping in sales. Only five of the top 25 comic titles managed to increase in sales between October and November.
But cover prices helped ameliorate the financial impact -- the top seven piece books were all higher than the current base $2.25 price.
The top of the list was where the good news could be found, with three of the top six and four of the top ten titles increasing in sales between October and November. Superman/Batman, Identity Crisis, and Avengers were all up in sales.
Marvel was slightly less dominant than usual, with only one of the top five titles, six of the top ten, and 16 of the top 25 titles. DC had the rest; no other publishers cracked the top 40.
Sales on graphic novels were pusillanimous as well, with the top title, Ultimate Spider-Man Vol. 11, only selling around 8,500 during November. And only four titles, one of them a $3.95 Gemstone, sold over 5,000 copies through Diamond during the period.
The top 25 comic titles during November, along with our estimate of the number sold to comic stores by Diamond during that period are:
157,949 Superman / Batman #13
134,840 Astonishing X-Men #6
132,384 Identity Crisis #6
121,831 Superman Batman #14
106,469 Superman #211
105,761 Avengers #503
101,431 Avengers Finale #1
96,820 Ultimate Fantastic Four #13
92,133 Ultimate X-Men #53
92,051 Uncanny X-Men #452
91,075 Ultimate Spider-Man #68
90,010 Ultimate Spider-Man #69
88,747 JLA Classified #1
88,620 X-Men #164
87,121 Amazing Spider-Man #514
86,273 Green Lantern Rebirth #2
84,417 Ultimate Fantastic Four #12
81,841 Wolverine #22
69,642 X-Men End Bk 1 Dreamers & Demons #5
68,992 Iron Man #1
68,290 Marvel Knights Spider-Man #8
67,225 Captain America #1
63,769 Batman #634
63,355 JLA #108
61,537

Teen Titans #18
We are estimating actual sales by Diamond U.S. (primarily to North American comic stores) rather than pre-orders (as we did for the past several years) because Diamond recently changed its reporting and began basing its indexes on actual sales (see 'ICv2 Kicks Off New Top 300 Reporting'). We use those indexes and publisher sales data to estimate a sales number for Batman (the anchor title diamond uses in its calculations), and use that number and the indexes to estimate Diamond's sales on the remaining titles. We can check the accuracy of our numbers by comparing the Batman number that we calculate using multiple data points; our numbers for Batman are within 1/10 of 1% of each other, ensuring a high degree of accurcy.
Because of that change, we will not be able to do year over year comparisons until February of 2004, but in general, it's an improvement to have actual numbers to work with rather than preorders, which have significant differences from sales.