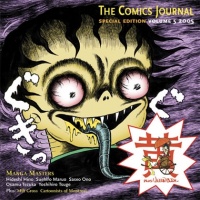 The fifth and final Comics Journal Special Edition, which is set for a late February release, turns the spotlight on manga (with seven articles) and the work of the late Vaughn Bode (three articles). Other features include an inside look at Montreal's comic scene, an examination of the career of cartoonist Milt Gross by Bill Blackbeard, and an Original Comics Section in which 32 artists from all over the world provide their own personal take on the multi-facet topic of 'Seduction.'
In the manga section Bill Randall profiles the life and work of Osamu Tezuka, Japan's 'God of Manga,' and also pens 'An Introduction to the Very Best of Japanese Comics.' Two of Japan's masters of horror manga, Suehiro Maruo and Hideshi Hino get major attention including a rare Hino interview. In articles that will be of great interest to serious students of manga, Beatrice Marechal takes a look at the work of I-comics Master Yoshiharu Tsuge and Kosei Ono examines the pre-Tezuka World War II-era work of his father, Saseo Ono.
In the 'Vaughn Bode' section Don Phelps examines the artist's highly personal drawing style in the aptly titled article, 'Teeming Universe,' while Bob Levin and George Beahm write about the artist's short, but highly productive and influential, life.