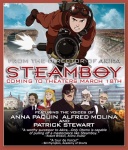 The most expensive animated feature film ever produced outside of the United States, Katsuhiro Otomo's Steamboy, opens in 40 North American cities this weekend. With production costs well over $20 million Steamboy is a visual marvel combining traditional 2D and contemporary computer-generated 3D animation into a seamless whole. Sony has sprung for a topflight English language vocal cast including Patrick Stewart, Alfred Molina and Anna Paquin for this retro science fiction drama set in an alternate Victorian England teetering on the cusp of the great age of modern scientific inventions.
Otomo, whose dystopian post-apocalyptic anime epic Akira fueled the American anime boom some 15 odd years ago, displays a more reflective and positive attitude toward science and progress in Steamboy, which is thematically closer to Miyazaki's Laputa (Castle in the Sky) than to the cyberpunk writings of a William Gibson.
Japanese audiences preferred the Pokemon film Pocket Monster: Advance Generation 2004 to Steamboy (see 'Pokemon Trumps Steamboy') and American audiences will undoubtedly choose Robots in far, far greater numbers, but Steamboy is opening in arthouses in 40 cities this weekend and will expand its run on March 25. Cities where the film will open this Friday include: Phoenix, Berkeley, San Diego, San Francisco, San Jose, Denver, New Haven, Orlando, Honolulu, Chicago, Indianapolis, Des Moines, Louisville, Boston, Minneapolis, Ann Arbor, Detroit, Kansas City, Buffalo, New York City, Syracuse, Cincinnati, Cleveland, Dayton, Tulsa, Philadelphia, Austin, Dallas, Fort Worth, Houston, San Antonio, Madison, Salt Lake City, Toronto, and Vancouver.