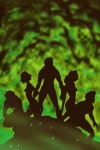 Marvel will be rescheduling and resoliciting its Mutant X comic, based on the new live action TV show. The comic was originally scheduled to launch October 10, but Diamond has notified its accounts that the title will be resolicited. The TV show was to premiere the first week of October -- no word yet on whether that date will be affected by recent events. Production and release of the show was assured after a ruling in the litigation between Marvel and Fox (see 'Mutant in the Middle'). In response to an inquiry by ICv2, Marvel Marketing Communication Manager Bill Rosemann said:
'After viewing the first few episodes of the new syndicated Mutant X TV series, we've made a scheduling change to properly capitalize on the show's debut. By moving the launch of our Mutant X comic book to a later date, we'll give the program time to build audience awareness and loyalty, rather than delivering a product before the source material actually hits. Then, once the show has generated excitement, we'll capitalize on that recognition by releasing the comic. We believe this will be the best course of action to trigger increased customer traffic and the resulting higher sales for Direct Market retailers.'
The timing of products tied to TV shows or movies is done in a variety of ways, so it's not necessarily surprising that Marvel would put out the comic some time after the show's debut.

What is surprising is that they would first schedule the comic release contemporaneously, and then change their minds after having seen the show.

There's nothing apparent from the trailer that would lead to that decision, although the show was to be made less X-Men-like as a result of the litigation with Fox.

Another event that happened recently is that Marvel saw its orders on the first issue, so maybe that had something to do with it.

Based on Diamond's solicitation cycle, the comic could not be resolicited for release before December.