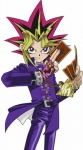 Yu-Gi-Oh the anime series (and collectible card game) that trumped Pokemon in Japan, had a very successful debut on Saturday, September 29 on the WB Network, winning its time period handily with a rating of 3.6 and an 18 share among boys 6-11. The story of a shy young boy who overcomes rivals with the help of an ancient deck of cards, Yu-Gi-Oh is based on the manga by Kazuki Takahashi that was originally serialized in Shonen Jump, Japan's most popular manga magazine. It is still way too early to call Yu-Gi-Oh a hit, but it is off to a very good start. The first Yu-Gi-Oh American merchandise will be the Game Boy game--Yu-Gi-Oh! Dark Duel Stories--which is set for a November release. ICv2 has learned that the Yu-Gi-Oh collectible card game won't be out until sometime late in the first quarter 2002. Other licenses are pending, but could be wrapped up quickly if the television series continues to perform well.
The American producer/packager of Yu-Gi-Oh is 4Kids Entertainment, the same company that brought the Pokemon phenomenon to these shores (see '4Kids Nabs Yu-Gi-Oh). Naturally 4Kids is hoping that lightning will strike twice. Certainly Yu-Gi-Oh has the chance to become a Pokemon-size hit because the series is about gaming in the first place. Even the Yu-Gi-Oh Game Boy game is essentially an electronic card game. The Yu-Gi-Oh game features frightening monsters, dark fantasy storylines, and nubile female characters, all of which have a strong appeal to preteens who want to graduate from the puerile niceties of Pokemon. Since 1998, Yu-Gi-Oh has dominated the CCG market in Japan with some 3.5 billion cards sold versus 300 million Pokemon cards sold during the same time.
So the Yu-Gi-Oh CCG is potentially a huge product, but little is known about the American version of the game at this time.

Originally it appeared that Konami itself would publish the CCG, but that does not seem to be the case now.

4Kids may end up doing the game itself or may partner with a company that has CCG experience.

The situation remains murky, but inside sources have repeatedly told ICv2 that the Yu-Gi-Oh CCG will debut in the first quarter of 2002.

Stay tuned for more details.