Dark Horse is launching four manga titles in March, including three that have been previously announced. Three horror manga titles (see 'Dark Horse to Focus on Horror Manga') lead the way. Ju-On -- Video Side is the manga adaptation of the Japanese movie that spawned an enormous franchise in Japan, with story and art by Miki Rinno. The movie was re-made in English and did well here on its release in October 2004 as The Grudge, starring Sarah Michelle Gellar (see 'Boffo 'Buffy' Slays the Shark').
School Zone Volume 1, with art and story by Kanako Inuki, features a storyline about ordinary children that discover that the supernatural is real at their school.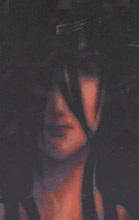 Octopus Girl Volume 1 will present the gory, darkly humorous work of Toru Yamazaki, who has achieved popularity not only as an artist, but as a Japanese TV personality and recording artist since the Japanese release of these stories in the mid-90s.
Dark Horse is also launching its Crying Freeman collections (see 'Dark Horse Nabs 'Crying Freeman' Rights') in March, with the release of Volume 1 at $14.95. Story is by Kazuo Koike with art by Ryoichi Ikegami. This will be the first English right-to-left release of this material.
Dark Horse will release a collection of the fantasy art of Yoshitaka Amano, who created Vampire Hunter D, in February.

Yoshitaka Amano:

Fairies is a $24.95 collection of Amano's paintings of these mythical creatures.