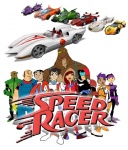 Art Asylum is launching its new line of Speed Racer toys using Webcasts of 7-minute animated episodes and a coordinated guerilla marketing campaign, which will include a graffiti team, a number of prominent hip-hop musicians, NBA basketball player Samuel Dalembert, and various forms of street marketing.
Art Asylum is seeking an alternative to costly TV commercials to market its Speed Racer toys, each of which will come with a DVD featuring those animated Webisodes along with music from top groups and DJs, who Art Asylum has enlisted in its campaign to revive the Speed Racer property.
2006 will mark the fortieth anniversary of the Speed Racer series, and it's estimated that the 52 episodes of that venerable anime have been on American television in some form or another for 30 out of those 40 years; and that over 40 million Americans are familiar with the Speed Racer brand and know the basics of the Speed Racer saga.
Art Asylum's new animated episodes bring the classic Speed Racer characters into the present -- Speed is late into his 40s, the father of twins, Velocity and Speed Jr., while Racer X is now in full grizzled Frank Miller Batman mode.
In its Speed Racer toy line Art Asylum has kept it simple, producing just a series of die-cast figures and vehicles, a series of 5' Action Figures and plastic vehicles, and a line of rev-up Gyro Racers. Art Asylum hired an Asian design team to create the updated Speed Racer characters and vehicles; and is including 'classic' figures and vehicles, which should appeal to older fans, in its assortments of both die-cast and plastic figures. In addition to the figures, Art Asylum is producing six vehicles: Speed's Mach 5, Racer X's Shooting Star, Velocity's Mach 9, Speed Jr.'s Mach 10, Clutch's Mach 8, and Nitro's Mach 7.
The five-inch Speed Racer Action Figures will retail for $6.99 and come with a Bonus Speed Racer DVD including animation and music. The 3' Die Cast Figures will also come with a DVD. None of the Speed Racer skus will have a retail price of over $20. Art Asylum has just launched its Speed Racer Lives Website, where it will premier the new 7-minute animated Speed Racer episodes, and the company hopes that its Web-based, viral, organic marketing campaign will gain traction and that consumers will appreciate the kind of value the company can deliver for a very reasonable price -- something it wouldn't be able to do if it had to mount an expensive TV advertising campaign.