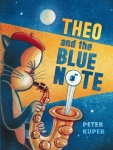 Peter Kuper, known for his hard-hitting work on World War III Illustrated and his superb graphic novel adaptation of Upton Sinclair's The Jungle (for NBM), has two new projects with mainstream publishers.
This October Viking Children's Books will publish Kuper's first picture book for kids, Theo and the Blue Note ($15.99), the story of a would-be jazz cat that is filled with the angular energy of bop and includes tributes to musical greats like the immortal Charlie Parker.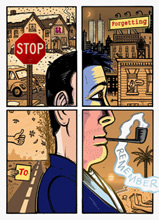 In July of 2007 Crown Books will publish Kuper's next graphic novel, a 'sort of' autobiographical account of the life of Walter Kurtz, a semi-famous cartoonist in the midst of creating an autobiographical graphic novel, who suddenly must deal with the changes wrought by the arrival of his first child. Stop Forgetting to Remember: The Autobiography of Walter Kurtz is a revealing first person saga with a unique, comic-within-a-comic format that spans the past ten years and remains intensely personal but doesn't neglect the political (election of 2000, the war in Iraq) and social upheavals (9/11) affecting the life of an artist living in New York City.