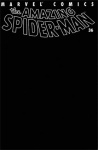 Marvel has decided to reprint Amazing Spider-man #36 as part of a 96-page Marvel Must-Have #2 along with Hulk #34, Daredevil #26, and X-Men Evolution #1. This 'catch-all' reprint will be solicited in the 11/21 Diamond Dateline that will reach retailers next week. Mighty Marvel Must-Have #2 will retail for $3.99. Marvel had suspended its no-overprint policy on the 9/11-themed Spider-Man issue and printed 20% extra (which sold out immediately).
Many retailers were hoping that since Amazing Spider-Man #36 has received a lot of publicity due primarily to its 9/11 storyline and has the potential to draw a lot of 'civilians' to comic shops, that Marvel would quickly reprint the book to meet the estimated high demand. Marvel has reprinted its 9/11 tribute book Heroes, which has attracted a large audience of both traditional and non-traditional comic book buyers to pop culture stores. A Marvel spokesman suggested that retailers faced with new customers who want to buy a copy of the sold-out book '...take their names and contact them on December 26 when Mighty Marvel Must-Have #2 is available.'
Instead of immediately capitalizing on the opportunity presented by Amazing Spider-Man #36 by reprinting it in its original form, Marvel is going to do exactly what it did when Origin #1, another book that had the potential to bring in new readers, sold out in a flash.

Rather than reprint the book on its own, the publisher combined it with other titles in Mighty Marvel Must-Have #1 (see 'Marvel To Reprint Origin #1, Sort of').

This kind of 'bundling' becomes in Marvel's hands another guerrilla marketing tool; the company hopes that the readers chasing Origin #1 or Amazing Spider-Man #36 will sample one of the other stories reprinted in the Marvel Must-Haves and seek out other issues of those titles.