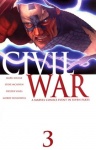 Civil War continued to be the hottest property in comic stores in July, with the third issue of the flagship book not only topping the list with over 290,000 copies sold, but also selling more copies in its first month than either of the first two issues.
The cumulative sales on the first two issues of Civil War are also both between 290,000 and 300,000 copies.
And Civil War-related titles accounted for seven of the top twenty comic sellers in July. No wonder Marvel cited the event as one reason for its unexpectedly good publishing results in second quarter (see 'Marvel Beats Estimates').
Brad Meltzer's JLA #0, the #2 title, sold over 162,000 copies in comic stores in July.
Batman sales were up nearly 50%, to over 113,000 copies, behind the first Grant Morrison and Andy Kubert issue.
Marvel had seven of the top ten titles, and 15 of the top 25.
Sales on eleven of the top 25 titles declined, and nine went up.
Two graphic novels, DC's Fables Vol. 7 and Marvel's Halo Graphic Novel topped 10,000 first month copies cold. Wizard's Twisted Toy Fare Theatre Vol. 7 was the top title not from the Big Two, at #4. Tokyopop had the top manga graphic novel with Fruits Basket Vol. 14 at #8.
The top 25 comics in July, with our estimates of the number sold to North American comic stores by Diamond Comic Distributors, are:
290,709 Civil War #3
162,378 Justice League of America #0
124,617 New Avengers #22
122,016 52 Week #11
113,567 Batman #655
111,421 Amazing Spider-Man #534
110,830 Wolverine Origins #4
106,162 Civil War X-Men #1
105,220 Wolverine #44
103,993 Uncanny X-Men #475
103,153 Civil War Front Line #4
102,142 52 Week #9
100,779 52 Week #10
98,826 Ghost Rider #1
98,667 52 Week #12
95,487 X-Men #188
92,603 Superman/Batman #28
88,775 Uncanny X-Men #476
85,346 Civil War Front Line #4
85,175 Supergirl #7
84,460 Ultimate Fantastic Four #31
82,268 X-Men #189
80,292 Green Lantern #12
77,487 Flash Fastest Man Alive #2
We are estimating actual sales by Diamond U.S. (primarily to North American comic stores), using Diamond's published sales indexes and publisher sales data to estimate a sales number for Batman (the anchor title Diamond uses in its calculations), and using that number and the indexes to estimate Diamond's sales on the remaining titles. We can check the accuracy of our numbers by comparing the Batman number that we calculate using multiple data points; our numbers for Batman are within 1/10 of 1% of each other, ensuring a high degree of accuracy.
For our estimates of actual orders to Diamond U.S. from comic specialty stores on comic books scheduled to ship during July, see 'Top 300 Comics Actual--July 2006.'