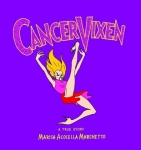 According to the Hollywood Reporter, Marisa Acochella Marchetto's autobiographical graphic novel Cancer Vixen, which is due out today from Random House's prestigious Knopf imprint, has been optioned by Working Title Pictures as a vehicle for Kate Blanchett.
Cancer Vixen is the saga of a shoe-obsessed cartoonist fashionista living the good life in the trendiest circles in Manhattan, who thought of herself as a 'terminal bachelorette' until she met the owner of a fashionable New York restaurant. Then three weeks before marriage to her pasta-slinging Prince Charming, she discovers that she has breast cancer, and she is forced to spend the next eleven months of her life dealing with her affliction with the help of her friends and colleagues who help ensure that she remains in their eyes and her own perception a Cancer Vixen, not a cancer victim.
Cancer Vixen ($22.00) is a 224-page full color hardcover graphic novel that has the potential to enlarge the audience for the graphic medium. Cancer Vixen is hardly the first graphic novel to deal with this subject matter, Harvey Pekar's Our Cancer Year covered similar autobiographical ground back in 1994, and Brian Fries' Mom's Cancer won the 2005 Eisner Award as best online comic before being collected in a graphic novel edition. Still Cancer Vixen, with its trendy settings, underlying romance, and its spunky heroine who seemingly could have been plucked off the set of Sex in the City, should appeal to a wide audience, and certainly will reach a huge number of readers if and when the film version gets made.