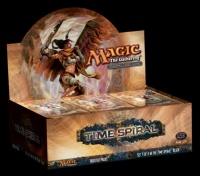 Paid Advertisement. ICv2 is offering retailers a chance to win over $1000 worth of new Magic: The Gathering - Time Spiral boosters just by subscribing to ICv2's free daily e-mail newsletter.
Magic: The Gathering was the game that established collectible card games as the biggest hobby game category over ten years ago, and it's still growing strong. Its latest Time Spiral release is hugely popular, and moving in big numbers.
- 8 booster displays of M:TG - Time Spiral
To find out more about the M:TG - Time Spiral expansion,
click here.
To subscribe to the free ICv2 e-mail newsletter and enter this contest for retailers, click here.
For more information on this exciting promotion for new subscribers, see 'Retailers--Win $1000 Worth of Merchandise.'