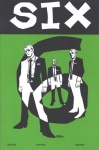 According to Variety, a new hour-long drama based on Six, the Image title by Michael Oeming, Daniel Berman, and Ethen Beavers, is being developed for Fox. The sci-fi series, titled Them, will follow a cell of aliens who take human form and begin experiencing human emotions.
It's being directed by Jonathan Mostow (Terminator 3), and written by David Eick of Battlestar Galactica and John McNamara.
The show is being executive produced by Circle of Confusion's David Engel and David Alpert. Circle of Confusion is involved in several other comic-based projects (see 'Paramount Options 'Invincible'' and 'Charlize Theron in 'Jinx'' for example).