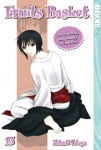 Tokyopop announced that it has shipped two million copies of the fifteen volumes it has published of the Fruits Basket manga series by Natsuki Takaya. Although Tokyopop has published a number of very successful manga series including Ken Akamatsu's Love Hina and Clamp's Chobits, Fruits Basket is now by far the best-selling manga in company history. Remarkably the series has maintained its popularity here in the States from the very beginning -- since 2003 Fruits Basket has never been less than a top-five performer in ICv2's Top Manga Properties list, which is based on sales in both the bookstore and direct market channels.
The key to the success of Fruits Basket, which is the best-selling shojo series in both Japan and the U.S., is the way in which it appeals to both male and female readers with a combination of humor and emotion in its saga of an orphaned high school girl who finds refuge with a very eccentric family. Ms. Takaya won a Kodansha Manga Award for her creation, which first appeared in the pages of the Hana to Yume manga magazine in 1999 and is still on-going in Japan, where 21 volumes have appeared so far. The final two volumes in the projected 23-book series are expected to be released in Japan in 2007, which means that Tokyopop will have eight more volumes of Fruits Basket to release in North America.
In 2001 Fruits Basket was made into a 26-episode anime series, which FUNimation distributes in the U.S. and which is finally getting broadcast exposure via the FUNimation Channel.