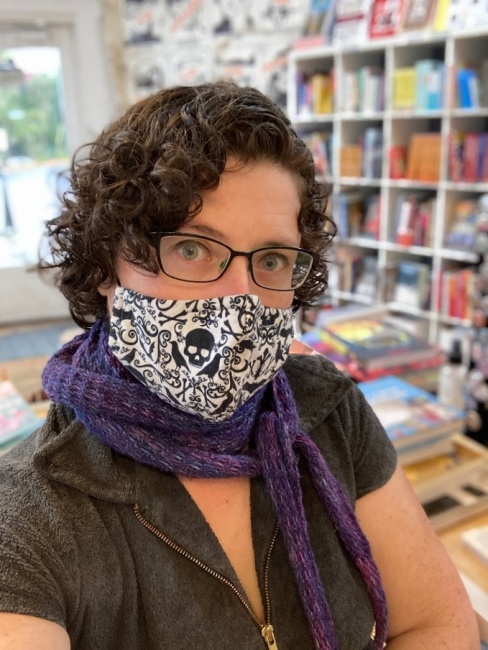 In Business 3x3, a business retailer or executive will share their experience with three things they've done right, three things they've done wrong, and what else they've learned along the way.
Katie Pryde calls her CV prior to opening Books With Pictures in Portland, OR, "a big old mess." Well, it certainly was interesting…
As a teenager, Pryde worked in an indie bookstore, tutored math, and soldered circuit boards in manufacturing.
In college, she worked on IT and was a voice recording books on tape.
She got her master's at Cornell studying 19th century telescopes and cartography (as one does), and taught history, corporate culture, and technology culture at Cornell and elsewhere. She was also the co-founder and managing editor of a literary magazine.
Then she and her childhood best friend founded a technology consultancy that helped tech startups train their sales and services teams. Pryde used her academic background to design curricula for sales training. That job was a four-year rush. "Big money, big deals, suited up, pitching our services to massively growing Silicon Valley startups," she recalls.
Part of the job was helping Square, the payment processing company, develop training materials for new markets. As part of that, Pryde interviewed dozens of small business owners.
But the tech consultancy got stressful, and the clients less fun. Pryde and her partner off-ramped themselves and wound the business down. Pryde started thinking about what she really wanted in a career and well… that old high school indie bookstore job sure was fun.
So a few twists and turns aside—as you'll see below—Books With Pictures was born in 2016. Pryde has learned a lot. "But I'm still the new kid at this," she says.
THE GOOD
VISION-BOARD YOURSELF
When you give yourself the freedom to entertain any possibility, you can find a great one. Pryde asked herself what kind of job would make her happiest.
"I sat down with myself and made a list of the attributes of the job I wanted," she says. "With the background I had, certainly, I could have got one of my clients to hire me fuIl-time, but knew I wasn't interested in working in tech any longer. So I made a long list: I wanted to work with people face-to-face. I want to feel like I'm doing something good for my community. I want to feel like there's something different to do every day. And I thought about the bookstore job I had in high school, and how much I loved being part of the community that the bookstore was."
Having the right friends to push her in the right direction helped, too.
"In my personal life, I was friends with a lot of really amazing comics professionals here in Portland," she says. "So that led to deciding to open the shop."
SURVEY THE FIELD
Pryde signed a lease for her soon-to-be store space, but had two weeks before she could take possession. So a wedding in San Francisco and a family reunion in San Diego became a research road trip, tapping into her "interview the business owner" experience in tech.
"I made appointments with every comic shop owner who was willing to talk to me on a Portland-to-San Diego road trip," she says. "Everybody was welcoming. Some people gave me half an hour, some people gave me three hours. Some people opened up their books, showed me their subscription management, their inventory tools. My experience previously interviewing business owners meant that I could rapid-fire gain a lot of knowledge from other retailers."
Pryde says the knowledge was invaluable. And there was a great bonus as well.
"I didn't see this on the way in, but I wound up making a lot of really good friends in the retailer community," she says. "Nobody wants to see the new kid fail. This is a hard business. It's a tricky, weird business. They wanted to show me not how to fall into a pit. That said, I fell in a lot of pits."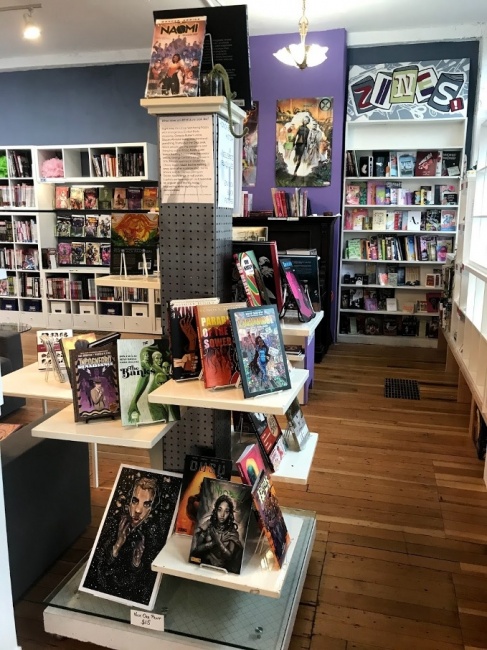 PLAN YOUR SPACE
We all know display is important. Pryde places a lot of emphasis in this area, pulling on her background in teaching and instructional design.

"I thought about the physical space as instructional," she says. "How can we teach you to be a comics customer by the space that you're in while you're here? Those thoughts really strongly influenced the physical design of the store."

New-issue shelving is custom built, with clear fronts to display the whole cover. "I wanted to create a clean visual rhythm, encouraging browsers to consider each book for its own moment in time—like a comics panel!—without the clutter and distraction of overlapping titles that often occur on magazine racks or narrow gridwall shelves," Pryde says.

Pryde applies a specific logic to young readers as well.

"All readers, but especially kids, tend to gravitate toward books they know, " she says. "This can be hard when their favorite series doesn't have a new volume yet. So I work to shelve books together that a customer might be looking for next. In the kids' area, this gets a bit fine-grained, and is frequently revised. Right now, kids' sections include 'witches and ghosts,' 'adventure stories,' 'realistic fiction,' 'magical school stories,' 'space,' 'funny animals,' and 'summer camp.' So when a kid looks for the latest Raina or Dog Man and discovers they've already read it, they are in exactly the right spot to find their next favorite."

THE BAD
DON'T OVERBUY
The vision, the research, and the space are one thing. And oh, yeah—there's also dollars and cents. That's a pit that Pryde fell into at the start.

"My first year, year-and-a-half, I was overbuying by an extraordinary amount," she says. "I had so little trust in my own taste when I was doing that buying. I had this serious FOMO of 'I know what I like, but maybe I would like something else if I just saw it, so maybe we should bring it all into the store.' I bought too many things."

Pryde went back to her vision and her space to course-correct.

"One of the things that became clear is because we are in part designed to be a new-reader-friendly store, a casual fan store, a trade reader store, we are a hand-selling store," she says. "So buying something and bringing it into the store, especially in quantity, that none of my staff or me are going to be able to hand-sell is a waste of my money."

Pryde got to a better place, but has some lumps to show for it.

"That first year-and-a-half, inventory management became a problem," she says. "I had all this unsold product; cash flow was a nightmare. Figuring out how to buy not just as a comic shop but as this particular comic shop and really getting over the FOMO of 'I need to have every single book' was a lesson that took a while to learn."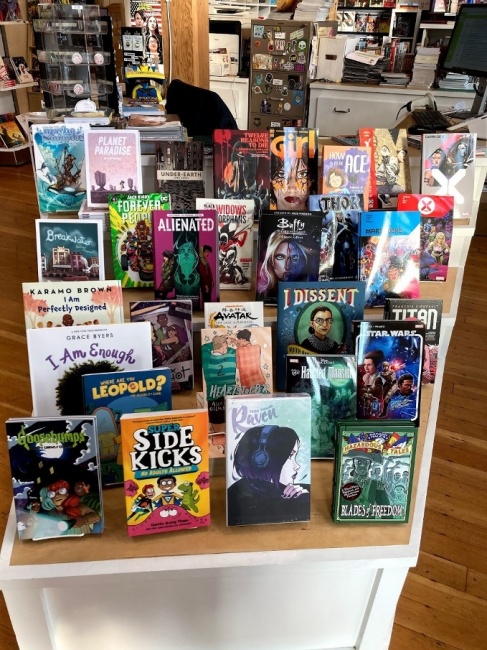 KNOW WHAT YOU CAN HAND-SELL
Part of learning was Pryde finding out what she and her staff could hand-sell… and teaching her customers to trust them.
"Part of training our customers to trust us comes by making genuine recommendations, not ordering in the books that we don't have confidence in, and then trying to sell the books that we received and suddenly realized we don't have confidence in," she says today. "Part of cultivating customer trust is about being willing to say, 'I don't think that's all that great,' or maybe, 'I don't think that's great for you.'"
Pryde still does the dance, and has learned that customer wants can be managed in different ways.
"People can buy what they want to buy, and we'll special-order anything people are looking for," she says. "But when it comes to hand-selling, we have to make sure we're hand-selling books that we are confident in. And 'books that we like,' that's not the criteria. There are still great books that are the best versions of the books that they are that I might not personally care for or wouldn't just read for pleasure. We all have our preferences. There are so many books that come out. Our place is never going to be the physical version of the
Previews
catalog."
LEARN HOW TO DELEGATE
No one wants to be chief cook and bottle washer on everything, but finding out how to let go can be trying.
"I still, now, struggle with finding the right things to delegate," Pryde laments. "I think that's common among people who run their own business, but it's hard to find the things that I shouldn't be doing, right?"
For her part… Pryde is still trying.
"Making sure that things still get done, but not micro-managing them to the point where delegating means I'm still doing them is tough," she says. "It's hard to let go. And there are things I have delegated, and then taken back."
Compound that with inherent difficulties in ordering, and you've got a whole new stew.
"I've always done initial orders, but now I have my manager doing FOC, and… he's too thin!" Pryde says. "He's more conservative than I am in buying. So… it's always the dance."
AND WHAT ELSE?
"The time interviewing small business owners that Square was investigating expanding into turned out to be extraordinarily valuable. I did a whole project interviewing florists all across the country about their supply chain, their scheduling, their marketing needs, all that. I did another project on eyebrow threading companies in Chicago, and there's a specific set of businesses that do eyebrow threading in Chicago, and it doesn't look like anywhere else in the country, so it's a very micro-business culture, but I got to interview a ton of people for that, and it was amazing.
"After that project, Square was like, 'Okay, show us how that is and isn't like braiding salons in the South, so I spent four weeks interviewing older women who had been braiding Black hair for 50 years in Atlanta. I learned the ins and outs of all these businesses, specifically in terms of their sales and marketing. It was amazingly cool, much more interesting than the software work and business-to-business tools for managing your supply chain."
"So I did that for four years. I founded that company with my childhood best friend, literally the person I grew up doing lemonade stands with. This woman is my longtime best friend, and when we sat down to form this company we basically had a pre-nup. We drew up a document and said, 'These are the conditions under which we will dissolve this company.' We went through a span of doing this work, traveling internationally, making a ton of money, but it was getting stressful and as our clients were getting really not fun. So we started bickering. She was living in the Bay area and I was living in Portland and coming down to the Bay for work and she came up to Portland and said, 'This is our visioning meeting. What is the vision? The vision is that we said we would quit if we weren't getting along, and we're not getting along. So let's give it up.'"
"So we did about a six-month offramp in which we didn't take on new clients, and we transitioned current clients and new vendors and wrapped up our projects. It was very staged and gradual, and it worked. But it was definitely our 'this needs to be done' moment. She and I still talk twice a week, which is great. It's successful if you can get out when you need to get out."
"In terms of transferable experience, I think about that Square gig a lot, mostly because it gave me a really good framing for business owners and what they do, and how business works."
"There was a time when my finances were coming apart, and I was looking at the store thinking, 'Maybe this can become a sideline, and I can go back to a full-time job to pay the bills.' But the demoralizing thought of 'I am so good at things, but I'm not qualified for anything' put me off the job-seeking. But now, I can look at pretty much anything I've done and say, 'Yeah, that's useful.'"
"A big part of what we do here is focus on being a women-friendly shop and a queer-friendly shop. Knowing and having on hand the latest queer comics—a lot easier today than it was five years ago—remains a key part of what we do. My manager and I read as much as we can so that when we recommend a book with a female protagonist, it's not just because 'here's a girl book, you'll like it,' but it's also because women are represented in a way that's not objectifying or gross."

"One of the great things about being in Portland is that there are so many great shops. So it actually gives us a lot of freedom to say, 'No I don't need to have every book you could possibly want.' Because you can walk a mile and half and get it. It's easier for not to overbuy, once you get that."

"If you had told me three years ago that we were going to be a very serious X-Men shop, I would not have believed you. But right now… oh my God. We have had such an extraordinary run of selling X-Men the last 18 months or so. We get people coming in every time, every week, wanting to talk about last week's X-books. It's so much fun!"

"About two years ago, I bought a building here in Portland. It's a crazy deal; there are 22 partners in the corporation that owns the building, because I didn't have all the money to buy it. So I have a bunch of supportive partners in this project. The building has been a bookstore since the 70s, so there's a lot of good neighborhood feeling about having a bookstore in the area. It was a comic store in the 70s, a used book store in the 90s… it's got a history. So that was really good, and also means I'm no longer dealing with my really difficult and capricious landlord from my previous location."

"I feel like we were just into the new space, just had all the backstock unpacked, when COVID hit. So then came all the recalculations and all the pivoting around COVID, which remarkably, worked out so well. It's a thing at this point that I'm really proud of: We ended 2020 up from 2019, and just finished our best January [in 2021] ever."

"The two major COVID things we did (and again, vision-board values), I sat down and thought about what made our store really special and valuable to our customers. And I thought about that hand-selling piece. I wasn't worried about losing the customers who know exactly what they want because they know how to order from us. I was worried about losing the grandparent who comes in and drops 50 bucks on every grandchild for every birthday. If that grandparent doesn't know what they need, it's tough. So I set up a Google form that's now 500 entries long, and it's basically a personal shopping form. The minimum is $50, and it goes up from there. If you want $50 worth of books, we say, 'Tell me about the person it's for, or about yourself, if it's for you. Tell me what you read, what you watch; and the hard no's, what you absolutely don't want.' And then they can go over the list with me, or choose a 'surprise, $50, send me anything you want to give me.'

"I'm still doing them, and they're still fun and interesting. But in the period of Diamond shutdown, when I was not getting new inventory and the supply chain was getting weird everywhere, the ability to say, 'You think you want this book that I can't get, but I have this book that I'm sure you'll be very happy with,' was really great for that period, and for managing inventory. So many of these 'other' books were products I had sitting on the shelves for three months, but were still great. Our sales numbers did not dip during the Diamond shutdown. I was just able to sell backstock."

"The second big COVID pivot was offering free local delivery, which I was initially doing seven days a week, and am now doing three days a week. It's still working. I have a lot of healthcare workers as customers who are not only worried about going out and exposure, but also, who at the end of the day are just exhausted. Being able to support them and keep up their comics reading habits without having them to stress out about getting into the shop has been really nice."

"Even if people aren't all-the-way locked down, their travel habits are still different. They're not just driving around able to say, 'Oh, I'll stop at the comic store for fun.' So making sure those people can still get books they want—and faster than Amazon—has been really, really good. I expected the online and delivery stuff to be replacement for the in-store stuff, but it's been largely additive."

"Worst timing ever award: In March last year, Books with Pictures opened its second location. The structure there is that I'm the minority owner of a second company. My business partner [Andrea Gilroy] in Eugene [Oregon] is pretty much autonomous, with some restrictions on how she uses my branding and IP. The intent was that Eugene was about two hours from Portland, so I'd drive down one weekend a month, help her get her feet underneath her. But the reality became that… she's been flying pretty much on her own amazingly well. But it was disappointing not to be as involved in that project as I would have liked. Her grand opening got canceled, and she still hasn't had one! But she's been growing every month, doing remarkably well."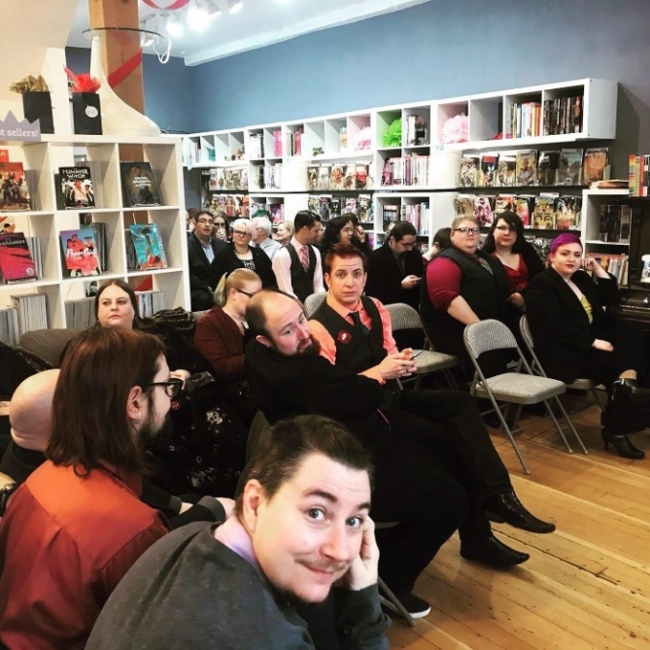 "Worth noting: That wedding pic was from December 2019. We haven't had any gatherings or events since the end of February, 2020, and although we miss them tremendously, we won't be gathering again until it is safe to do so."
"I'm an academic. If I can't over-research a problem, I don't know what do to with it."
Click Gallery below for store pics!