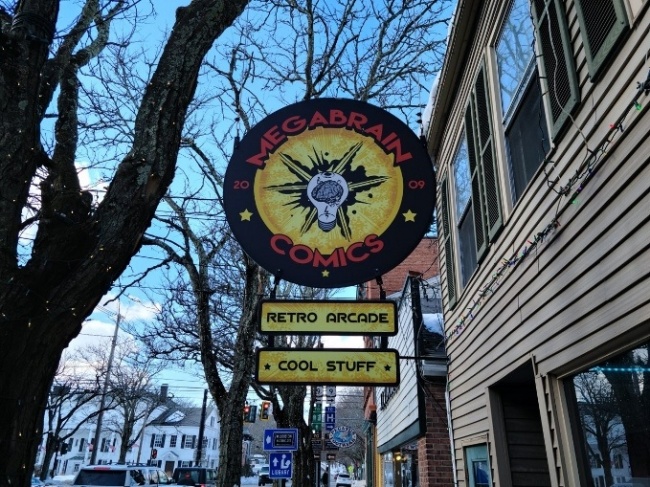 In Business 3x3, a business retailer or executive will share their experience with three things they've done right, three things they've done wrong, and what else they've learned along the way… usually.
Megabrain Comics of Rhinebeck, New York an interesting partnership. Jean David Michel founded the store in 2017, but quickly found he needed some help. Brian Tamm was just what the doctor ordered, and the store has operated at a breakneck pace with equally neck-breaking twists and turns in its four-year existence, as you'll soon see.
Because there are two distinct voices that have come together to create a wild pop-culture amalgam store and with a nod to what we did once upon a time
with Chuck Rozanski
, we'll break format a tad and let Jean and Brian take you on their journey…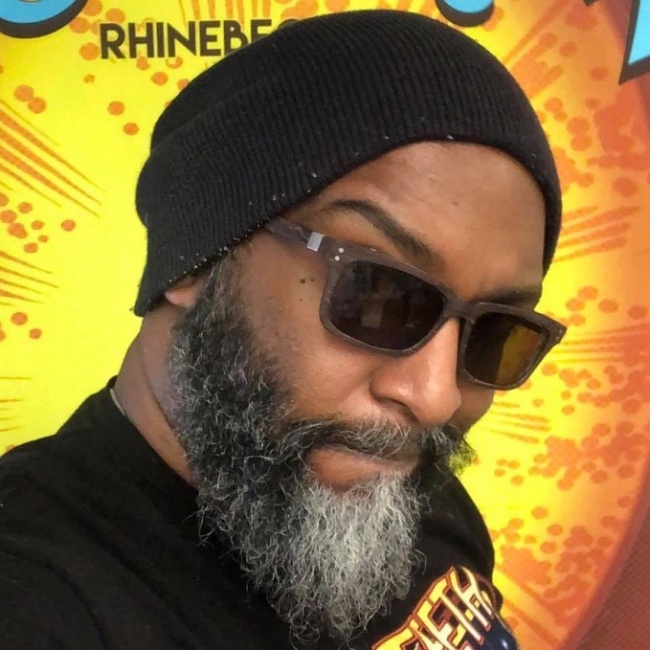 Michel:
"I worked a ton of retail jobs: Art stores, record stores, video stores, hardware stores. I've worked in countless restaurants, bartending, waiting tables. For a year, I took care of 87 horses, shoveling horseshit and everything that goes with that. I was a stagehand for years.
"Just before I opened this store, I was the project manager for this big restaurant-bar renovation. I was the person who facilitated starting that business, getting it open. As soon as I left, I decided I wanted to open a comic shop, because I had just spent three years opening a business for someone else. I just jumped right into it. I knew everything I had to do and everything I shouldn't do. Four months after deciding to do that, the shop was open.
"My background's pretty complicated. I think Brian's is a little more straightforward."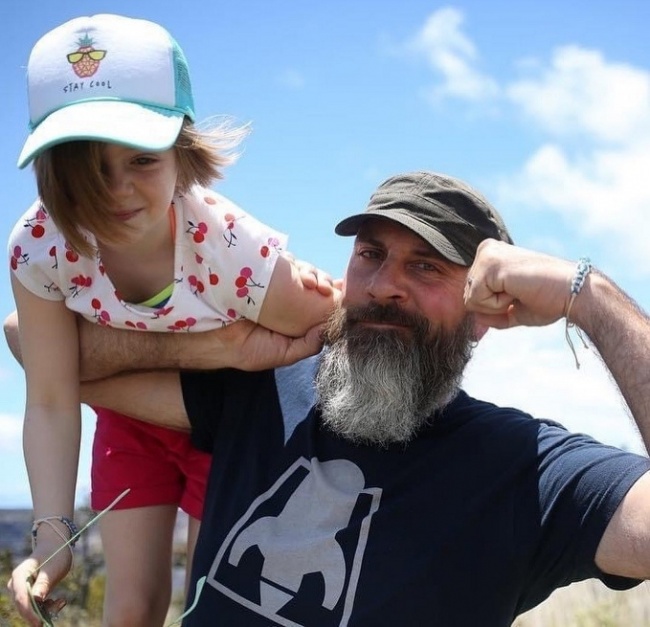 Tamm:
"I've always had my own business. I've had a screen printing shop, I've worked construction and carpentry with partners. So I was always running my own thing."
THE BAD

KNOW YOUR FINANCES
Michel:
"Even though I spent three years starting someone else's business, I found I was really terrible with finances. The first year of Megabrain, I made the mistake of spending way too much on inventory every month. About a year after my wife and I opened the shop, we realized that we had to close the shop. So I made a Hail Mary pass and went on social media and said, 'Hey, we may have to close the doors, so if anyone's interested in being a business partner, let me know.' And Brian was one of our customers and he reached out and said he was interested."
Tamm:
"I didn't know he wasn't doing well. I'd go in there and spend $80-$100 a pop, so I figured everyone was going in there and spending $80-$100. Everyone must be doing that, right?"
Michel:
"[Laughs] Nope! No. And on top of that, I was spending tons of money we just did not have and extending the store way too far. I was buying too many comics books every month, and not enough other stuff."
KNOW YOUR SPACE
Michel:
"I had this back room I had designated for tabletop gaming,
Dungeons & Dragons
, that kind of thing, but I never did figure out how to monetize it. So it was just his room where everybody came and hung out. For a long time, we bought a lot of product for a small demographic of people, and we never diversified our offerings.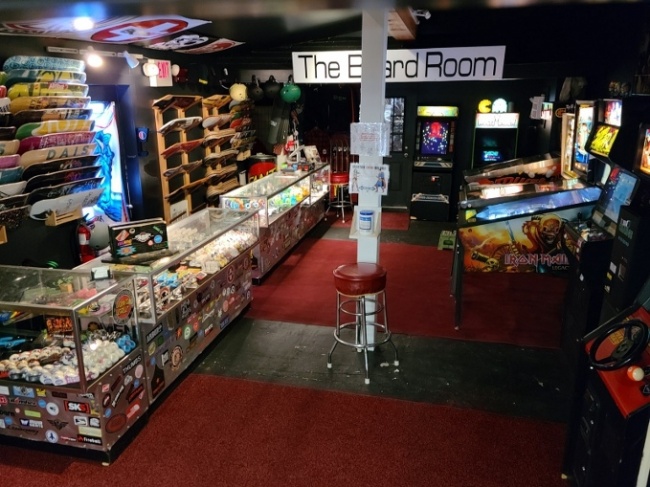 Tamm:
"We were trying to find out how to make money in our back gaming room. We had some after-school programs where we'd make $15, but end up spending $20 on pizza. Still not good. So we finally put a pinball machine and two video games there. I had two arcade games at my house, so we put them into there, and… wow. Kids were coming in, hanging out there, and then buying stuff—soda, candy, chips. So we contacted an amusement company and they brought in a few more machines and we kept slowly making the gaming tables area smaller until one day it was just 'okay, get these table out of here.' We slowly made an arcade in the back."
DON'T GET TOO EXCITED
Tamm: "All of our mistakes are on buying. We just get so excited by things. We're always, 'Oooooooh! Everyone's going to want this!' But it's all about controlling how much we spend."

Michel: "I always look at other stores and think about how much stuff they have. But hey, I don't know their finances, maybe they've been around longer, so maybe they have a stronger regular pulse of buying customers. The first year of this business, I was spending $1,500 a week on new comics and maybe making $1,400 a week on everything, and…it was awful. That was one of the biggest mistakes I made. Now we've been more cautious. Don't get all excited."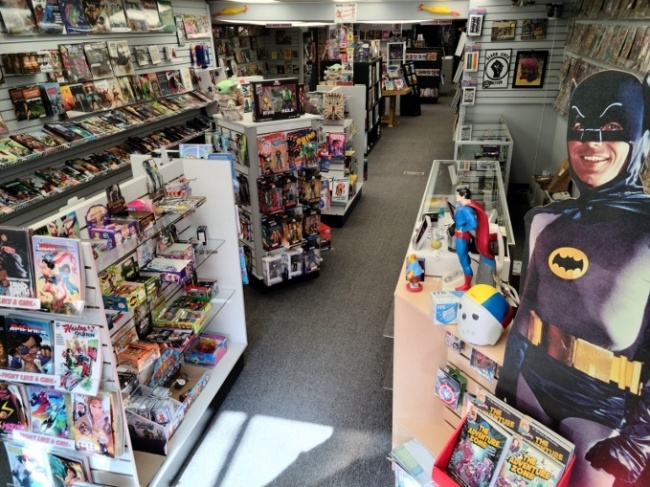 THE GOOD

GET THE LARGER, BETTER SPACE
Michel:
"We moved to a much larger space on the main drag here in town in February, 2020. That move was the best thing we did. Our old location was on a side street that no one walks down; nobody even knew we were there. We didn't get much foot traffic. Moving to a bigger and more central location… within the first three days, it was 'Oh my God!' We made more money on a weekend in the new location than we did in a month in the old location. It was a huge eye-opening experience. Location really does matter. People don't want to go searching too much. Being right in front of people's eyes makes all the difference."
MOVE WITH THE TIMES
Michel:
"When the pandemic hit, arcades are not exactly the kinds of places people want to pack in to. So we drastically reduced the amount of machines we had in there."
Tamm:
"We totally had to close it down for a few months. Just shut the doors on it."
Michel:
"So one town over, there was a guy who owned a skateboard shop, and he was kind of in the same bind we were at our original location—no foot traffic, no one knew he was there. So we sublet most of the arcade space to him. He pays part of the rent each month, and we're a comic book shop/arcade/skate shop and that has just been like… insane. It's brought a huge new base of people in. And now records. We decided to introduce selling records as well. Once we embraced the notion that we are a broad, pop culture store, that was our 'A-ha!' moment. We are still mostly a comic shop. You walk in, you see comics and graphic novels everywhere. But we also have been leaning more into the all-around nerdery of retail."
OKAY, NOW YOU KNOW YOUR FINANCES
Tamm:
"My wife is a CFO of a big company. So she does our books now, and oooooh, that really helps."
Michel:
"Yeah. It's amazing to see what can really happen when someone who understands what the money should be doing tells you what the money should be doing."
Tamm:
"She's given us guidelines: 'Don't spend much more than this; that's what you need to make every week,' and it helps. Like right now, after Christmas, I know we feel like we're low on stock and we're thinking, 'Yeah, let's get this! And this and this!' And she's like, 'Wait. Wait a little while. Help your cash flow.' And we do."
AND WHAT ELSE?
Michel:
"When we opened, we were only using Diamond to buy all of our product from. But we started to branch out and opened accounts with other publishing distributors. We can get all of our products now from a number of different sources. Some have better shipping, most everybody has a better return policy than Diamond…"
Tamm:
"Well, any return policy is better than Diamond's."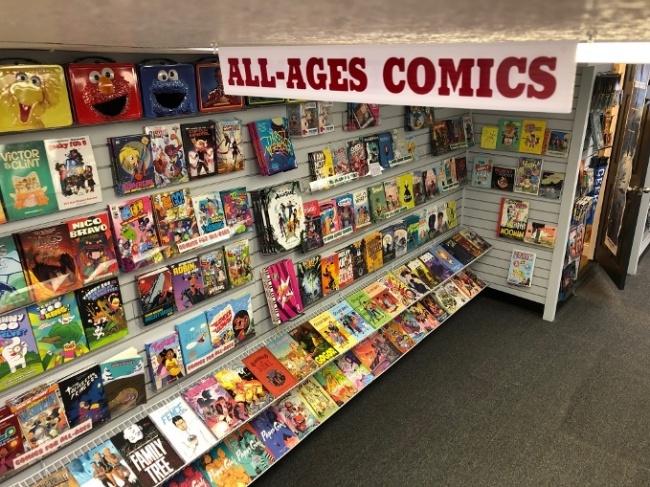 Michel:
"Yeah. But that's one of the smarter things we've done in not put all our eggs in the Diamond basket. Diamond is down to, really, new weekly comics, minus DC. Everything else, there's somebody else selling it."
Michel:
"We've been pretty lucky these last few months. I'm friends with a lot of comic shop owners, and a lot of them have weathered some pretty tough stuff in this pandemic year. Thankfully, in our town, the families and the community here has some disposable income they can drop. Even during COVID, we've had a lot of community support."
Michel:
"Our social media has been… I don't know if it's a misstep, but being as it's 2021, we need a more consistent presence. It's something that we need to work on."
Michel:
"COVID actually forced our hand into having a website where people could actually buy things. We were totally shut down, so we took three months and just put all our comics into a web shop, and now we have this really great online store that's driving revenue even when we're closed. And that's something where we were just never going to do that."
Tamm:
"We never would have taken three months off to do that. Until we had to."
Michel:
"Yeah. Oddly enough the pandemic had a silver lining for us. We now have a website that sells things which is, yeah, one of the things people always were telling us we should do!"
Michel:
"Being a longtime comic fan, and now that we have this bigger space, one of the things I want to do is have events with writers, artists, and so on. We were just starting to reach out to people, say, 'Come here, we'll have an event,' and we were getting some stuff planned when COVID hit. But I feel it's those people, the creators, who are the living, beating heart of all this. We have to get back into that as soon as we can, set these things up. I want us to be a place where comic fans and comic creators can have a meeting of the minds."
Click Gallery below for store photos!