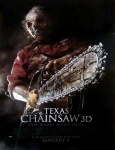 In something of a surprise, Texas Chainsaw 3D topped the weekend box office with an estimated $23 million, and despite generally solid performances from a strong cast of holdovers, the box office take of the top 12 films was virtually identical to the first weekend of 2012 when another horror film, The Devil Inside topped the chart with $33.7 million.
The 3-D remake of Tobe Hooper's 1974 grisly classic did considerably better than the 2006 prequel (Texas Chainsaw Massacre: The Beginning), which opened to just $18.5 million, but higher ticket prices (aided by 3-D surcharges) definitely played a part in the strong debut of Texas Chainsaw 3D, which many analysts did not see as a serious contender for this weekend's box office crown. The R-rated remake did manage to get young adult moviegoers into the theaters—63% of the audience was under 25 years old. The addition to the cast of singer-songwriter Trey Songz certainly doesn't appear to have hindered the film's success with its youthful target demographic.

Weekend Box Office (Studio Estimates): January 4-6, 2013

Film

Weekend Gross

Screens

Avg./

Screen

Total Gross

Wk#

1

Texas Chainsaw 3D

$23,000,000

2,654

$8,666

$23,000,000

1

2

Django Unchained

$20,082,000

3,010

$6,672

$106,351,000

2

3

The Hobbit: An Unexpected Journey

$17,525,000

3,755

$4,667

$263,820,000

4

4

Les Miserables

$16,117,000

2,904

$5,550

$103,605,000

2

5

Parental Guidance

$10,125,000

3,368

$3,006

$52,761,000

2

6

Jack Reacher

$9,300,000

3,288

$2,828

$64,804,000

3

7

This Is 40

$8,559,000

2,931

$2,920

$54,460,000

3

8

Lincoln

$5,258,000

1,901

$2,766

$143,933,000

9

9

The Guilt Trip

$4,530,000

2,312

$1,959

$31,207,000

3

10

Promised Land

$4,312,000

1,676

$2,573

$4,661,000

2
Texas Chainsaw 3D, which scored a lousy 22% positive rating on Rotten Tomatoes, earned a poor "C+" CinemaScore from opening weekend audiences. The film saw a 20% decline from Friday to Saturday night, a good indication that it will be a rather typical front-loaded horror film. However, it does have a good horror movie "brand," and, like bad reviews, CinemaScores don't appear to have a much effect on horror movie attendance.
In second place was Quentin Tarantino's Django Unchained, which declined only 33.3% as it added $20 million and brought its domestic cumulative to $106.3 million. Tarantino's revenge epic has now surpassed Les Miserables and should soon become Tarantino's highest grossing film yet. It certainly looks like Django Unchained is gaining some momentum.
After topping the charts for three weekends, Peter Jackson's The Hobbit: An Unexpected Journey slipped to third as it brought in an estimated $17.5 million, which brought its domestic cumulative to $263.8 million. Worldwide, the first of three Hobbit films has earned $820 million and still has a chance to cross the $1 billion mark.
The musical Les Miserables continued its strong run. The $61 million production slipped just 41% and finished at #4 with an estimated $16.1 million as it brought its domestic cumulative to $103.6 million.
Fifth place went to the Billy Crystal comedy Parental Guidance, which dropped just 30% as it continued to benefit from being the only family-oriented live-action game in town. The $25 million production is already in the black albeit only slightly with a domestic cumulative of $52.8 million.
The remaining films in the Top Ten also suffered only minor declines with Tom Cruise's Jack Reacher, the Judd Apatow comedy This Is Forty, and Steven Spielberg's Lincoln continuing to demonstrate decent "legs."
The anti-fracking drama Promised Land, which stars Matt Damon, didn't do well in limited release last weekend and expanding it by 1651 theaters didn't really help as the movie ended up in tenth place with a disappointing total of $4.3 million and a weak per-theater average of just $2,573. Despite a major TV ad campaign, Promised Land appears doomed. Its poor performance lends some credence to the belief that domestic audiences aren't that interested in serious dramas based on contentious political issues.
Mention should be made of a film that has stirred up something of a political controversy with its torture scenes, but which shows every sign of becoming a box office success. The killing of Osama Bin Laden docudrama Zero Dark Thirty expanded from 5 theaters to 60 and still managed a hefty $45,833 per-theater average. Katharine Bigelow's film goes wide next weekend and is the current favorite to take the box office crown in its debut frame.
Check back next week to see if the heavily-advertised period crime drama Gangster Squad or the "found footage" horror movie parody A Haunted House or Zero Dark Thirty will end up on top.