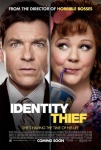 In spite of Nemo, a mammoth winter storm that had three New England governors banning car travel for various periods during the weekend, Identity Thief, an "R" rated comedy starring Melissa McCarthy and Jason Bateman, steamrolled expectations to win the weekly box office derby with an estimated $36.6 million. Steven Soderbergh's quasi-Hitchcockian thriller Side Effects came in third, but it wasn't enough to keep the box office from slipping 48% from the same frame last year--though this is largely the result of the sixth weekend of 2012 benefiting from proximity to Valentine's Day, which means that next weekend would make for a far more accurate comparison.
The success of Identity Thief came in spite of a pummeling by critics who complained that the movie's manic slapstick style substituted throat-punching for dialogue and gave the film only a 24% positive rating on review aggregator Rotten Tomatoes. One thing appears clear Melissa McCarthy has become a comedy juggernaut. Identity Thief opened far better than expected in spite of the weather, which may have affected grosses by as much as 10%. McCarthy, who stars on the Mike and Molly TV series, scored her first big screen triumph in a flashy supporting role in Bridesmaids. Note that in spite of the bad weather, Identity Thief opened considerably better than Bridesmaids, which debuted with $26 million. Whether Identity Thief will sport the same kind of "legs" that enabled Bridesmaids to earn $170 million remains to be seen, but it appears that audiences, who gave Identity Thief an OK "B" CinemaScore, like the film (and McCarthy) a lot more than the critics did.
Weekend Box Office (Studio Estimates): February 8-10, 2013

Film

Weekend Gross

Screens

Avg./

Screen

Total Gross

Wk#

1

Identity Thief

$36,593,000

3,141

$11,650

$36,593,000

1

2

Warm Bodies

$11,500,000

3,009

$3,822

$36,652,000

2

3

Side Effects

$10,015,000

2,605

$3,845

$10,015,000

1

4

Silver Linings Playbook

$6,908,000

2,809

$2,459

$90,002,000

13

5

Hansel and Gretel: Witch Hunters

$5,750,000

3,285

$1,750

$43,833,000

3

6

Mama

$4,323,000

2,677

$1,615

$64,046,000

4

7

Zero Dark Thirty

$4,000,000

2,562

$1,561

$83,600,000

8

8

Argo

$2,500,000

1,405

$1,779

$123,734,000

18

9

Django Unchained

$2,288,000

1,502

$1,523

$154,501,000

7

10

Bullet to the Head

$1,980,000

2,404

$824

$8,171,000

2
Last week's winner the zombie romance Warm Bodies dropped just 43.5% as it earned an estimated $11.5 million. While it is far from as popular as the Twilight Saga, Warm Bodies is playing well to a subset of that same young female audience.
Soderbergh's Side Effects, which also earned a "B" CinemaScore and was also hurt by the storm in the Northeast, earned $10 million, which is perhaps a bit on the lower side of expectations, but this thriller, which exposes the perils and dangers of anti-depressants, is the kind of film that could develop "legs," since it appeals to an older audience
At this time of the year it is interesting so see how the various Oscar hopefuls are faring. David O. Russell's Silver Linings Playbook is currently performing the best of the lot at the box office. After spending last weekend at #3, it slipped just 10.7% and fell only as far as fourth place as it earned an estimated $6.9 million and brought its domestic cumulative to $90 million. Kathryn Bigelow's Zero Dark Thirty slipped from #5 to #7, while Ben Affleck's Argo, buoyed by wins at the Directors' Guild and Screen Actors' Guild events, added 450 theaters and jumped back into the top ten. Right now Argo may have a bit of lead for "Best Picture," but Steven Spielberg's Lincoln and Silver Linings Playbook are not far behind.
Mention should be made of the continuing strength of Universal's horror film Mama, which slipped to #6 during its fourth weekend of release. Perhaps the success of this classic old school horror movie that was made for $15 million and has already earned $64 million will encourage the studios to put more effort into maintaining this perennial genre.
The IMAX 3-D revival of the 1980s Tom Cruise vehicle Top Gun didn't make the top ten, but it did average a respectable $6,333 per venue at 300 theaters and finish at #11.
Put a fork in Sly Stallone's comic book-based Bullet to the Head, which dropped 56.5% in its second weekend and fell to #10. The recent failures of action films starring Stallone and Arnold Schwarzenegger have some analysts worried about the upcoming release of a new Die Hard film starring the venerable Bruce Willis. But unlike the Stallone and Schwarzenegger vehicles, Willis' new film is the latest installment in a popular franchise, which should at least get the star's older fans into the theater.
Check back here next week to see how Willis' A Good Day to Die Hard fares as it competes with a trio of other newcomers including the Nicholas (The Notebook) Sparks' romance Safe Haven, the computer-animated feature Escape from Planet Earth, and the supernatural love story Beautiful Creatures, all of which open on Thursday (Valentine's Day).