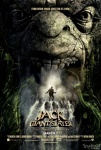 Bryan Singer's big budget tentpole Jack the Giant Slayer opened with a disappointing $28 million and received little help from other newcomers 21 and Over and The Last Exorcism Part II as year-over-year box office revenues plummeted 35% when compared with the same weekend last year when The Lorax opened with $70 million.
Singer, who has considerable experience with comic book/fantasy films (X-Men, Superman Returns, etc.), and Warner Brothers were hoping for a much better domestic debut for Jack the Giant Slayer, the first big budget "tentpole" film of 2013 that, in spite of its lack of stars, had a production cost of $195 million and a major marketing campaign that, according to inside sources, pushed the total cost of the film to nearly $300 million. With this disappointing debut, the studio's only hope at avoiding a major loss of revenue will be foreign markets where effects-heavy 3-D movie continue to do well.
Still with a domestic debut that is $2 million less than Disney's John Carter, it appears unlikely that this "PG-13" retelling of the Jack and the Beanstalk fairy tale will ever see black ink. John Carter, which had a total budget very similar to Jack's, ended up earning $73 million domestically and $209 million overseas, leaving it well short of the $600 million worldwide total that the film would have needed to break even. At least Jack opened better than last year's Battleship, which debuted with $25.5 million. Although their costs and box office performances were similar, John Carter was a much better film than Battleship, but since the Disney ERB adaptation flopped first, it is considered the "bomb" of 2012 in spite of the fact that Battleship foundered in a very similar pool of red ink.
The only silver lining for Warner Brothers is the fact that Jack earned a solid "B+" CinemaScore from its opening weekend audiences, which skewed slightly male (55%) with 27% of the opening weekend crowd under the age of 25. So Jack did attract a portion of the family audience, which could mean a more extensive stay in theaters since "family" movies tend to have longer "legs," but Jack will face immediate competition for the family crowd when Disney's big budget Oz: The Great and Powerful (directed by another comic book movie veteran Sam Raimi) opens next weekend.
Meanwhile the "R" rated comedy starring Melissa McCarthy, Identity Thief slid just 30.8% in its fourth weekend in theaters as it earned $9.7 million and took second place. Identity Thief, which has now earned $107.4 million, was the only major "hit" to debut in a very disappointing February, which saw the box office plummet 24% versus 2012. The fact that Identity Thief is the only film that debuted in 2013 to earn more than 100 million so far is an indicator of how disappointing 2013 has been at the box office (at least so far).
The "R" rated comedy 21 and Over, which was written by The Hangover scribes Josh Lucas and Scott Moore, who made their directorial debut on the film, opened disappointingly in third place with a mere $9 million from nearly 2800 theaters for a poor per-venue average of just $3,248. Despite a fairly large marketing budget, this $13 million production does have a chance to make its money back, but only if it manages to demonstrate solid "legs" over the coming weeks.
The horror movie The Last Exorcism Part II also has a small budget ($5 million) and an even better chance at profitability, but its debut paled in comparison to 2010's The Last Exorcism, which opened with $20.4 million, so Part II certainly doesn't look like any sort of horror movie goldmine, especially given the film's pitifully bad "C-" CinemaScore.
The Rock's action thriller Snitch dropped just 41.5% in its second weekend, but its debut was so small that its "solid hold" doesn't mean very much. The Weinstein Company's CG animated feature Escape From Planet Earth landed in sixth place in its third weekend and, with its 3-week total of just over $40 million, gives every sign of being just another lackluster cartoon feature with a big name voice cast and only mediocre prospects at the box office.
Relativity's Nicholas Sparks' romance Safe Haven continues to inch towards profitability, proving that there is still an audience for films in a genre that generally only gets served by Hollywood by an occasional movie that open on Valentine's Day.
David O. Russell's Silver Linings Playbook (also from the Weinstein Company) continues to perform better than any of the other Oscar films. It was the only Oscar winner in the "Top Ten" this week as it ended up at #8. As the Oscar-winning movies drift down the charts and head towards DVD, the responsibility for the attracting crowds to the cineplexes will shift to new films as the parade of big budget box office hopefuls begins in earnest in March (it used to be late May or even June before studios were willing to gamble, but the crowded summer schedule has pushed some moguls to try their luck earlier)
The Bruce Willis franchise film A Good Day to Die Hard continued to plummet down the charts finishing in the 9th spot in its third week as it dropped 55.7%, but the latest Die Hard is doing quite a bit better than the horror/thriller Dark Skies, which dropped from 6th to 10th in its second weekend of relase.
Check back here next week to see if Raimi's Oz: The Great and Powerful opens well and how a number of second tier efforts including Dead Man Down, a thriller starring Colin Farrell directed by The Girl With the Dragon Tattoo's Niels Arden Oplev will fare.