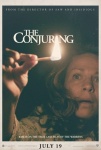 New Line's $20 million horror film
The Conjuring
easily topped the weekend box office with $41.5 million while Universal's $130 million tentpole
R.I.P.D.
was DOA with a meager take of $12.7 million, which was only good enough for sixth place. Two other newcomers, Dreamworks' animated
Turbo
and Lionsgate's
Red 2
also posted disappointing debuts, though neither film was an abject failure on the scale of
R.I.P.D.
Overall, the total of the top 12 films was down 19% from the same frame last year when
The Dark Knight Rises
debuted to $160,887, 295.
The Conjuring's
big win marks the second time this summer that "so-called" counter-programming horror films not only fared well, but actually took the box office crown (the micro-budgeted horror movie
The Purge
won the June 7-9 weekend, see "
'The Purge' Benefits from Post-Apocalyptic Binge
"). Unlike
The Purge
,
The Conjuring
, which was directed by horror specialist James Wan, received a solid "A-" CinemaScore, so even though it is very unlikely to win the box office next weekend,
The Conjuring
is also unlikely to do the quick fade that
The Purge
and so many other horror films experience. With a solid cast that includes Vera Farmiga and Patrick Wilson,
The Conjuring
is a far slicker production than the micro-budgeted "found-footage"
Paranormal Activity
-type films that typically disappear quickly after a potent debut.
Weekend Box Office (Studio Estimates): July 19-21, 2013

Film

Weekend Gross

Screens

Avg./

Screen

Total Gross

Wk#

1

The Conjuring

$41,530,000

2,903

$14,306

$41,530,000

1

2

Despicable Me 2

$25,059,000

3,820

$6,560

$276,159,000

3

3

Turbo

$21,500,000

3,806

$5,649

$31,203,000

1

4

Grown Ups 2

$20,000,000

3,491

$5,729

$79,500,000

2

5

Red 2

$18,500,000

3,016

$6,134

$18,500,000

1

6

Pacific Rim

$15,955,000

3,285

$4,857

$68,235,000

2

7

R.I.P.D.

$12,763,000

2,852

$4,475

$12,763,000

1

8

The Heat

$9,325,000

2,689

$3,468

$129,292,000

4

9

World War Z

$5,200,000

2,066

$2,517

$186,941,000

5

10

Monsters University

$5,005,000

2,186

$2,290

$248,998,000

5
Universal, which is taking it on the chin with
R.I.P.D
., has a mega-hit in
Despicable Me 2
, which fell to second place as it dropped just 42.9% in its third weekend theaters while adding $25 million to bring its domestic total to $276 million. Sometime in the next week
Despicable Me 2
will pass
Man of Steel
to become the second-highest grossing film of the year so far.
Despicable Me 2's
strong hold was especially impressive because it came in the face of direct competition from Dreamworks'
Turbo
, a deluxe $135 million animated production (
DM2
cost just $76 million) that earned an estimated $21.5 million in its debut weekend.
Turbo
is suffering from a glut of animated features in theaters with both Pixar's
Monsters University
and
Despicable Me 2
providing direct competition.
Turbo
is doing a bit better overseas and does have some hope here since it received a solid "A" CinemaScore. Though it will face competition for its target audience from a new Smurfs movie opening July 31, if
Turbo
can hang around in theaters there is the possibility that it can regain some of its lost ground, but its $21.5 million debut is the lowest domestic total ever for a Dreamworks Animation feature.
Adam Sandler's
Grown Ups 2
, which was roundly panned by the critics, slipped to fourth place in its second frame as it dropped 51.8%, earning an estimated $20 million, which brought its domestic total to $79.5 million.
The comic book-based
Red 2
is the sequel to the 2010 "Geri-Action" action comedy that features a cast of superannuated actors (Bruce Willis, Helen Mirren, and John Malkovich) wielding big guns. While
Red 2's
$18.4 million opening was well behind
Red's
$21.7 million bow in October of 2010, the sequel earned a OK "B+" CinemaScore. Given that the movie appeals primarily to older viewers, who generally don't feel compelled to rush to see films the first weekend they open,
Red 2
still has a chance to catch the original film, but its less-than-stellar debut has to have the folks at Lionsgate questioning their decision to open the film in the midst of the summer rather than during the fall when older viewers tend to pay more attention to what's showing at the local Cineplex.
Sixth place went to Warner Bros. and Legendary Pictures' troubled
Pacific Rim
, which dropped 57.2% in its second frame as it earned $16 million to bring its ten-day total to $68.2 million. The film is doing better overseas where it has earned $110 million, but Guillermo Del Toro's mash-up of anime and
kaiju
genres still has a very long way to go to earn back its production cost ($190 million), to say nothing of the millions more spent to promote the film around the globe.
R.I.P.D.,
which was directed by Robert Schwentke, who helmed the original adaptation of
Red
, opened near the low end of expectations, which were already low ($10 to $20 million, see "
The Knives Are Out for 'R.I.P.D.'
").
R.I.P.D
. is just the latest casualty of this summer's overcrowded movie slate following in the faltering footsteps of
After Earth, White House Down
, and
The Lone Ranger
. With a lousy "C+" CinemaScore from opening weekend audiences, there is very little hope for
R.I.P.D
., and the movie's status as a "certified bomb" certainly won't do much for Ryan Reynolds career (Does anyone expect to see Reynolds back as the Green Lantern?).
Meanwhile the "R" rated comedy
The Heat
starring Melissa McCarthy and Sandra Bullock continues to perform well, dropping just 33.4% as it earned $9.3 million to bring its domestic total to $129.2 million. The success of
The Heat
cements McCarthy's status in the front rank of screen comediennes, especially when she is allowed to "run free" in an "R" rated context.
Paramount's
World War Z
managed to stay in the Top Ten for the fifth weekend as it dropped 44.2% while earning $5.2 million to bring its domestic total to nearly $187 million. The movie has done even better overseas where it has brought in nearly $270 million for a worldwide total of $456 million. Given the film's production cost of $190 million and millions more (perhaps as much as $75 million) to promote the movie around the world, it is clear that
WWZ
has not yet made it into the black. While the most obvious negative effect of the surplus of big budget tentpoles is the string of abject "bombs" like
R.I.P.D
., a number of films like
World War Z
may come much closer to turning a profit, but still end up short (at least in terms of theatrical earnings).
Rounding out the Top Ten was Pixar's
Monster University
, which has earned nearly $250 million domestically and $533 million worldwide.
It took just three weekends for Disney's
The Lone Ranger
to fall out of the Top Ten as it plummeted 63% and earned just $4.2 million to bring its domestic total to $81.1 million. So far the film, which cost $215 million to produce, hasn't done well overseas either ($66.4 million), which means that Disney will have to take a major write-down on the film. While westerns can still make money as the Coen Brothers proved in 2010 with
True Grit
, which was made for $38 million and grossed $251 million worldwide, but in the wake of
The Lone Ranger
don't expect to see any big budget westerns any time soon.
Check back next week to see if
The Wolverine
, one of the most highly-anticipated comic book-based movies of the summer, can wrest the box office crown away from
The Conjuring
.