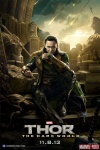 Alan Taylor's
Thor: The Dark World
, the eighth film from Marvel Studios, easily topped the weekend box office with an estimated $86.1 million, just below
Skyfall's
debut of $88.4 million last November. The
Thor
sequel earned more over the weekend than all the rest of the films in release combined. The box office total to the top 12 films was off just 1.1% from a stellar frame last year when
Skyfall
, the highest-grossing
Bond
film of all time, opened.
Thor: The Dark World
easily eclipsed the first
Thor
film, which debuted to $65.7 million in May of 2011, and this bump was expected in the wake of Joss Whedon's
The Avengers
, which featured the main Marvel characters and earned a mammoth $623 million domestically in 2012. Since then
Iron Man 3
posted a massive 36% increase in earnings over
Iron Man 2
, and
Thor: The Dark World
appears to be poised for a similar gain with its opening 31% higher than the first
Thor
movie.
Thor: The Dark World
is doing particularly well overseas where it opened a week ago and has already made $240.9 million, which puts it well ahead of the original
Thor
film, which earned just $268 million overseas during its entire run.
Marvel movies appear to be moving increasingly into the mainstream. The
Thor
sequel actually earned slightly more ($37.1 million) on Saturday night than it did on Friday ($31.6 million) indicating that these Marvel films are becoming date night fodder and not just cinematic ambrosia for fanboys. Couples actually made up 62% of the initial weekend audience with families accounting for 21% and teens 17%. As is common for superhero films, the audience tended to be male (62%) and older with 61% over 25, but Marvel Studios' parent Disney, not without justification, is calling
Thor: The Dark World
, a "four-quadrant" hit given the film's apparent ability to expand the superhero film audience.
Weekend Box Office (Studio Estimates): November 8-10, 2013

Film

Weekend Gross

Screens

Avg./

Screen

Total Gross

Wk#

1

Thor: The Dark World

$86,109,000

3,841

$22,418

$86,109,000

1

2

Jackass Presents: Bad Grandpa

$11,300,000

3,187

$3,546

$78,747,000

3

3

Free Birds

$11,180,000

3,736

$2,993

$30,196,000

2

4

Last Vegas

$11,100,000

3,082

$3,602

$33,531,000

2

5

Ender's Game

$10,250,000

3,407

$3,009

$44,001,000

2

6

Gravity

$8,405,000

2,720

$3,090

$231,119,000

6

7

12 Years a Slave

$6,600,000

1,144

$5,769

$17,346,000

4

8

Captain Phillips

$5,800,000

2,646

$2,192

$90,982,000

5

9

About Time

$5,172,000

1,200

$4,310

$6,690,000

2

10

Cloudy w/ a Chance of Meatballs 2

$2,800,000

1,836

$1,525

$109,976,000

7
The
Thor
sequel received mixed-to-positive reviews and currently enjoys a 66% positive rating on review aggregator Rotten Tomatoes, though many of the most influential newspaper reviewers are predictably losing patience with the apparently unending stream of superhero fare. Audiences appear to be more positive as
Thor: The Dark World
earned a solid "A-" CinemaScore from first weekend crowds. The success of
Thor: The Dark World
is of key importance to Marvel Studios since much of the action takes place "off-world" in galactic/fantastical settings, a direction that will be taken to a new level by Marvel's
Guardians of the Galaxy
space opera, which debuts next spring.
Thor: The Dark World
is off to a great start domestically, but will it have the tremendous "legs" that
Iron Man 3
displayed?
Last week's winner
Ender's Game
dropped a troubling 62.1%, earning an estimated $10.25 million and bringing its domestic total to $44 million. With just $9 million in overseas sales so far, the $110 million
Ender's Game
does not appear to be a viable "franchise-founding" film at this point.
The other holdovers fared better.
Jackass Presents: Bad Grandpa
finished second once again, demonstrating far greater staying power than previous
Jackass
movies. The $15 million production has now earned $78.7 million domestically.
The prospects are less rosy for Relativity Media's
Free Birds
, but the $55 million animated feature film dropped just 29.3% in its second weekend, but still has a long way to go just to make back its cost. The geriatric comedy
Last Vegas
dropped just 32% as it continues to play well to older audiences.
Alfonso Cuaron's
Gravity
finished in sixth place during its sixth week in theaters. Clearly the number one movie of the fall so far,
Gravity
has earned $231.1 million so far, making it the seventh-highest grossing film of 2013 at this point--a stellar performance for an adult-skewing Oscar hopeful.
Speaking of Oscar hopefuls, don't discount Steve McQueen's powerful
12 Years a Slave
, which expanded to 1,144 theaters and earned $6.6 million as it posted the second highest per-venue average in the top 10. While it is hard to see
12 Years a Slave
earning as much as the Tom Hanks-starring
Captain Phillips
, which has brought in $91 million so far, say nothing of
Gravity
, but then box office numbers don't always matter that much at Oscar time, and Hollywood has a lot of phony depictions of slavery (see
Gone With the Wind
) to live down.
Universal expanded Richard Curtis' stylish British romcom
About Time
to 1,200 theaters with fairly marginal results ($5.2 million), but comedies can hang around for a long time during the fall season, if they catch on and generate good word-of-mouth.
Bubbling outside the Top Ten, Oscar contender
All Is Lost
, which stars Robert Redford as a solo yachtsman battling the ocean after a loose shipping container rips a hole in his vessel, expanded to 401 theaters, while the Aids drama,
Dallas Buyers Club
continued to perform well in extremely limited release. Another film with Oscar potential, Fox's period drama The Book Thief debuted strongly in just 4 theaters in New York and LA.
Check back here next week to see how
Thor: The Dark World
fares in its second frame, and to see if
The Best Man Holiday,
the sequel to 1999's career-igniting
The Best Man
, can rekindle the romcom magic, or if Alexander Payne's Oscar hopeful
Nebraska
, or the
Calvin & Hobbes
-inspired documentary
Dear Mr. Watterson
can make any box office noise.