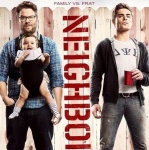 It was supposed to be a second straight win for Marc Webb's
Amazing Spider-Man 2
before everyone's favorite wall-crawler had to face off against some real competition from
Godzilla
next weekend, but the R-rated comedy
Neighbors
surpassed all expectations as it took the weekend box office crown easily with an estimated $51.1 million. Webb's
ASM 2
fell pretty hard, dropping 59% in its sophomore session, but still managed to earn an estimated $37.2 million. With the two other new films, the faith-based comedy
Mom's Night Out
and the animated
Legends of Oz: Dorothy's Return
, both tanking, there was no chance to avoid another big drop (15.1%) from the same weekend last year when
Iron Man 3
topped the charts for the second straight weekend.
The R-rated
Neighbors
stars Seth Rogen, Zac Effron, and Rose Byrne in the raunchy saga of a young family whose life is disrupted when a rowdy fraternity buys the house next door. Like a number of comedies due out this year,
Neighbors
deals with "thirtysomethings" forced to come to grips with the need to grow up a little bit even as the pull of anarchic youth remains strong. Almost no one was predicting a debut north of $50 million for
Neighbors
, which posted the second best opening ever for an original R-rated comedy, trailing just Seth MacFarlane's
Ted
($54 million).
Neighbors
attracted an audience that was 53% female and 53% over 25 and nearly 60% Caucasian, so yes, it hit
ASM 2
right in the demographics. A shirtless Zac Effron, who was featured in previews and ads, plus the non-threatening good time-stoner demeanor of Seth Rogen may have accounted for the higher-than-normal percentage of females in the crowd.
Neighbors
received generally good reviews. It has a current tomatometer reading of 74% positive on review aggregator Rotten Tomatoes. In the past hit R-rated comedies like
The Hangover
have demonstrated great "legs," and
Neighbors
could do the same, though the opening weekend audience gave the film only a mediocre "B" CinemaScore, which could put word-of-mouth in some danger. But the biggest danger to
Neighbors'
box office longevity could come from another Universal R-rated comedy, Seth McFarlane's
A Million Ways to Die in the West
, which opens in just 3 weeks.
Neighbors
was produced for just $18 million, and in addition to the $51.1 million it earned here, it also brought in $34.4 million from 29 foreign markets where it is being released as
Bad Neighbors
(it was #1 in 17 of those including the UK, Australia, and Germany).
Weekend Box Office (Studio Estimates): May 9-11, 2014

Film

Weekend Gross

Screens

Avg./

Screen

Total Gross

Wk#

1

Neighbors

$51,070,000

3,279

$15,575

$51,070,000

1

2

The Amazing Spider-Man 2

$37,200,000

4,324

$8,603

$147,900,000

2

3

The Other Woman

$9,250,000

3,306

$2,798

$61,730,000

3

4

Heaven is for Real

$7,000,000

3,048

$2,297

$75,220,000

4

5

Captain America: The Winter Soldier

$5,619,000

2,701

$2,080

$244,997,000

6

6

Rio 2

$5,125,000

2,973

$1,724

$113,165,000

5

7

Moms' Night Out

$4,200,000

1,044

$4,023

$4,200,000

1

8

Legends of Oz: Dorothy's Return

$3,705,000

2,575

$1,439

$3,705,000

1

9

Divergent

$1,700,000

1,233

$1,379

$145,024,000

8

10

Brick Mansions

$1,480,000

1,954

$757

$18,328,000

3
Meanwhile Marc Webb's
The Amazing Spider-Man 2
performed at the lower edge of expectations during its second weekend at the domestic box office.
ASM 2's
59% sophomore decline is actually not bad for a big action tentpole, but it is still more than the drops of
Captain America: Winter Soldier
(56%),
Thor 2
(57%), and
Iron Man 3
(58%, though since
IM3
scored a $174 million bow, the film's 58% drop is really quite extraordinary). At this point in its run
ASM 2
is already $10 million behind the pace of
Winter Soldier
and the Spidey sequel faces stiff competition in coming weeks from
Godzilla
and
X-Men: Days of Future Past.
ASM 2
continues to do very well overseas, where it did top the global box office chart by adding $69.5 million and bringing its total outside North America to $403 million. Even if
ASM 2
fails to match the domestic total of its predecessor, it will more than likely make up the difference overseas.
Neighbors
didn't have much of a negative effect on the female revenge comedy
The Other Woman
, which dropped just 35.8% as it earned $9.2 million and brought its 17-day total to $61.7 million. The Christian-themed
Heaven Is for Real
posted an even smaller decline of 18.6% as it ran its total to over $75 million. With a cost of just $12 million,
Heaven Is for Real
is the kind of success story that will "inspire" all sorts of religiously-themed films over the next few years.
Captain America: The Winter Soldier
slipped to #5 in its sixth weekend in theaters as it dropped just 27.7% earning $5.6 million and bringing its domestic total to $245 million. With a global total of $695.6 million,
Winter Soldier
is poised to pass
The Twilight Saga: Eclipse
for 63rd place on the all-time list of top-grossing movies (not adjusted for inflation).
While
Neighbors
flourished, this week's other two new entries bombed.
Mom's Night Out
, a sort of "stealth" vehicle for traditional religious values, debuted in just over a thousand theaters and earned just $4.2 million. Given the success of 2014's other faith-based films like
Heaven Is for Real, God's Not Dead
, and the recycled (from TV)
Son of God
,
Mom's Night Out's
debut has to be seen as disappointing.
But
Mom's Night Out
was
Avatar
when compared with the animated feature
Legends of Oz: Dorothy's Return,
which posted one of the smallest debuts ever ($3.7 million) for a film that opened in more than 2500 theaters. Bad reviews certainly didn't help either
Mom's Night Out
(just 17% positive) or
Legends of Oz
(an even worse 14% positive).
Be sure to check back here next week to see how Legendary's
Godzilla
, which has been tracking north of $60 million, opens, and if the offbeat sports film
Million Dollar Arm
starring Jon Hamm, can make an impression on an increasingly crowded box office.