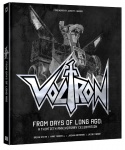 Viz Media has announced plans to release a comprehensive guide to the Voltron universe and its impact on pop culture in honor of the classic sci-fi anime series' 30th Anniversary this fall. Voltron Defender of the Universe: from Days Long Ago – a Thirtieth Anniversary Celebration will release under the Perfect Square imprint on October 28.

The book is written by former Marvel Comics editor Brian Smith, Marc Morrell, and Joshua Bernard, with a foreword by Jeremy Corray. The book will chronicle the story of Voltron and its cultural references, detailing the history of the show and the mythology. It will include a complete Robeast catalog, celebrity interviews and more. The 144-page, 9 7/8" x 10 7/8" hardcover has an MSRP of $29.99.

The original 124-episode Voltron animated series was co-produced by World Events Productions and Toei Animation and aired as Voltron: Defender of the Universe in syndication from 1984 to 1985. A new series, Voltron Force, created for Nicktoons in 2011 (see "'Voltron Force' Premieres June 16th"), ran for 26 episodes, ending on April 25, 2012.

World Events Productions is the rights holders for Voltron, and ICv2 spoke with them in 2011 about the licensing strategy for the evergreen property (see " The 'Voltron' Licensing Strategy"). Currently, Viz Media has graphic novels rights ('Voltron Force' GN Debuts in April"), and Dynamite Entertainment has licensing for comics (see "'Voltron: Year One'" and "Preview: 'Robotech/Voltron' #1 (of 5)"). Mattel has toy rights, but the property has been widely adapted to many mediums, including a miniatures game from Privateer Press (see "Privateer Details 'Voltron' Game"). A long-running attempt to make a live-action movie in the mid-2000s was abandoned in 2010 (see "'Voltron' Movie Back to Square 1").