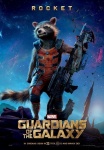 In its fourth weekend James Gunn's
Guardians of the Galaxy
reclaimed the number one spot on the box office charts with an estimated $17.6 million, while three newcomers underperformed with Frank Miller and Robert Rodriguez's
Sin City: A Dame to Kill For
outright tanking as it bowed in eighth place with just $6.5 million. Overall the box office was slightly on the positive side again with a 5% gain from the same weekend last year when
Lee Daniels' The Butler
topped the charts for the second week in a row with $16.5 million.
On the next to last weekend of summer
Guardians,
which dropped just 29.8%, not only reclaimed its top of the charts supremacy, it also passed
Transformers: Age of Extinction
($243.8 million) to become the highest-grossing film of the summer with a domestic cumulative of $251.88 million. By this time next week,
Guardians
will be the highest-grossing film of 2014, a distinction it should be able to hold on to until
The Hunger Games: Mockinjay, Part I
opens in November.
Guardians
is doing better here in North America than in the rest of the world, though due to World Cup distortions the international market has been harder to read on late summer releases. So
Guardians
might still catch on and perform more like other Marvel films overseas, though it appears now that the "newness" of the property is working against it overseas. Still the kind of "legs" that
Guardians
is displaying is just what a studio wants with a franchise-initiating film, and foreign grosses should be there for subsequent offerings.
The Michael Bay-produced
Teenage Mutant Ninja Turtles
also continues to perform well, dropping just 41.1% in its third weekend as it brought in $16.8 million and drove its domestic total to $145 million. The latest
TMNT
film should end up with somewhere between $175 and $200 million in the North American market.
Produced for just $11 million, the teen tearjerker
If I Stay
, which stars
Hit Girl's
Chloe Graze Moretz was expected to top the box office with around $18 million after a $1.1 million debut on Thursday (see "
Weak Thursday Debut for 'Sin City 2'
"), but came in slightly under that total with an estimated $16.3 million. While this debut pales in comparison with this summer's most successful "dying teen" movie,
The Fault in Our Stars
, which bowed with a robust $48.6 million,
If I Stay
will still turn out to be a solid moneymaker Warner Bros. As expected the movie drew an audience that was 77% female and 61% under 25, and they liked the film, giving it a solid "A-" CinemaScore.
Sandwiched in between
If I Stay
and another new release was the "R" rated comedy
Let's Be Cops
, which dropped just 38.2% in its second frame as it brought in $11 million and raised its domestic total to $45.2 million. This $17 million production is already a solid winner for Fox.
Fifth place went to
When the Game Stands Tall
, a film that combines America's twin passions, religion and football. The $15 million production about a stellar sports program at a small Catholic high school with a mammoth 150-game winning streak, was produced by Affirm Films, the company that brought religiously-themed productions like
Soul Surfer
, and
Facing the Giants
to the screen. Promotional efforts through Catholic churches do not appear to have been quite as successful as studios' previous attempts to market films like
The Passion of the Christ
through more Evangelical circles, but it is too early to make any definitive call.
Next came the Weinstein Company's adaptation of the classic dystopian YA novel,
The Giver
, which dropped 45.3% in its second frame as it earned $6.7 million, bringing its North American total to $24.1 million. Produced for $25 million with an A-list cast in supporting roles (Jeff Bridges, Meryl Streep, Alexander Skarsgard) and based on a groundbreaking 1993 novel that clearly influenced
The Hunger Games
and
Divergent
series,
The Giver
may end up doing decent business on disc and PPV.
Seventh place went to a third film in a clearly foundering franchise.
The Expendables 3
plummeted 58.4% from a very soft opening weekend. After ten days
Expendables 3
has just about earned what
The Expendables 2
brought during its opening weekend. A 58% second weekend drop-off is actually a good showing for a film with a massive opening like Guardians, but for a film that opened poorly like
Expendables 3
, there just isn't that far to drop and the percentages don't mean the same thing.
Weekend Box Office (Studio Estimates): August 22-24, 2014

Film

Weekend Gross

Screens

Avg./

Screen

Total Gross

Wk#

1

Guardians of the Galaxy

$17,631,000

3,371

$5,230

$251,884,000

4

2

Teenage Mutant Ninja Turtles

$16,800,000

3,864

$4,348

$145,610,000

3

3

If I Stay

$16,355,000

2,907

$5,626

$16,355,000

1

4

Let's Be Cops

$11,000,000

3,140

$3,503

$45,246,000

2

5

When the Game Stands Tall

$9,000,000

2,673

$3,367

$9,000,000

1

6

The Giver

$6,730,000

3,003

$2,241

$24,101,000

2

7

The Expendables 3

$6,600,000

3,221

$2,049

$27,519,000

2

8

Frank Miller's Sin City: A Dame to Kill For

$6,477,000

2,894

$2,238

$6,477,000

1

9

The Hundred-Foot Journey

$5,562,000

1,944

$2,861

$32,750,000

3

10

Into The Storm

$3,800,000

2,375

$1,600

$38,301,000

3
A spokesperson for the Weinstein Company was clearly upset by the poor showing for
Sin City: A Dame to Kill For
, which various tracking services had predicted as recently as late last week, would have at least a $15 million debut, saying "We never expected this level of rejection--it's like the ice bucket challenge without the good cause, and is a major disappointment." Clearly 9 years was way too long to wait for a sequel to a film that opened with a robust $29.6 million in 2005, and audiences may have tired of that film's green screen-produced graphic novel look, which while extremely stylish, goes against the basic realistic bias of the cinema (Neither Miller's
The Spirit
, nor the sequel
300: Rise of an Empire
enjoyed anything like the success of the first
Sin City
and
300
films produced via green screen).
Based on the success of the first
Sin City
film, the producers of
Sin City 2
have been able to leverage a large portion the $70 million cost of the film (the first one only cost $48 million) with pre-sales to foreign territories, so the loss won't be as great as might be expected, though a pricy ad campaign leaves the studio open to some exposure. The film also should play a bit better overseas where it will appeal to stereotypical views of Americans as gun and violence-crazed morons.
Males made up 64% of the audience for
A Dame to Kill For
, which should come as no surprise given the film's extensive TV marketing on sports network and Comedy Central. Unlike most comic book-based movies with "R" ratings,
A Dame to Kill For
did not appeal to older fans--78% of the audience was under 25. What happened to all those folks who went to see the original
Sin City
back in 2005--did they not feel like hiring a babysitter to check out the sequel?
What will this mean for the future of green screen movies with a distinct "graphic" look? Well what did the disastrous opening of
The Lone Ranger
mean for Westerns? Hollywood is the ultimate, "Yeah, but what have you done for me lately" town. What about graphic novel sales? The first
Sin City
sold a ton of graphic novels with additional sales spiking when the movie hit DVD. Retailers interviewed by ICv2.com this summer didn't expect a huge boom in sales from
Sin City
, and it looks like they were right, especially when no
Sin City
GNs showed up on the July BookScan list of bestselling GNs in the bookstore market (see "
July BookScan: Top 20 Graphic Novels
"). However, given the youth of the opening weekend audience for
A Dame to Kill For
, there remains some glimmer of hope. After all, many more people will see
A Dame to Kill For
than saw the movie based on Dan Clowes
Ghost World
, which moved a lot of graphic novels. So the jury is still out, but prospects are definitely limited by the buzz-killing egg that
A Dame to Kill For
laid at the box office.
Ninth place went to
The Hundred-Foot Journey
, which is the top adult-skewing "art house" release currently in theaters. In just three weeks, the Helen Mirren-starring foodie drama has earned $32.8 million, and should remain in theaters for weeks to come slowing building up its totals.
Check back here next week to see if
Guardians
will hang on, if
A Dame to Kill For
can recover, or if newcomers
The November Man
, an "R" rated spy thriller starring Pierce Brosnan, or the horror movie
As Above, So Below
can top the box office during the last weekend of summer.
--
Tom Flinn