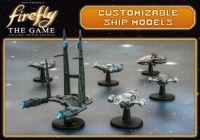 Gale Force Nine's next planned expansion for its bestselling
Firefly: The Game
is aimed at more experienced players and collectors; the
Resin Ships
miniatures expansion will release in February.
The
Blue Sun Expansion
is now in wide release (see "
'Firefly Board Game: Blue Sun Expansion'
"), and that big-box expansion was aimed at more experienced players who want to explore the 'verse more extensively. In a similar appeal to miniatures aficionados, GF9 is applying parent Battlefront Miniatures' expertise with high end miniatures to put out high-quality, customizable resin ships, similar to their
Dungeons & Dragons
line (see "
GF9 'D&D Collector's Series' Minis Go Wide
").
The box will include a full set of the models from the base game (see "
'Firefly: The Game' Board Game
") that have been re-mastered and produced in high detail resin. The six ships (4 Firefly Class, 1 Reaver Cutter, 1 Tohoku-class Alliance Cruiser) are supplied unpainted, and some assembly may be required. MSRP is $50.00.
Firefly: The Game
has been a Top 10 hobby channel board game since its release, and currently holds the #3 position on the Spring chart (see "
Top 10 Board Games--Spring 2014
").