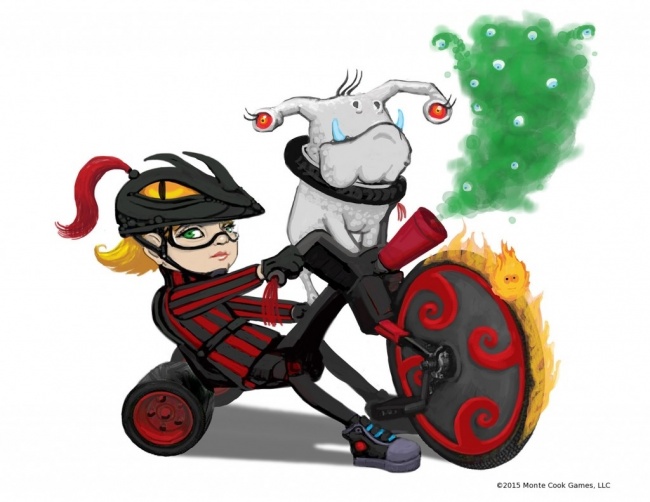 Monte Cook Games announced a new roleplaying game specifically designed for families and children.
No Thank You, Evil!
has been in development for over a year, and will be funded through a Kickstarter program launching in May, with trade release planned for early 2016.
No Thank You, Evil! will be a boxed set game, based on the Cypher System used in Monte Cook's Numenara and The Strange RPGs. The game is intended for families with children from ages 5 and up, and features a tiered ruleset that allows players to add complexity as the children grow older. The design intent is to allow older children as young as 11 or 12 take over as gamemaster after playing just a few games.
Monte Cook COO Charles M. Ryan told ICv2 that an important part of the design philosophy behind the project was to create a game that would be accessible to a very broad range of young players, including those who have to deal with barriers to learning. "We've paid a lot of attention to the barriers that make games difficult or unsuccessful with children. In particular to kids with reading or math difficulties, color blindness, and even autism."
The game uses large-size character sheets, cards, and colorful tokens to make the game mechanics more accessible and less math-intensive, while still allowing for a broad variety of character types and playing styles.
Games of No Thank You, Evil! will typically play in less than an hour, with longer games and campaigns possible as well.
The MSRP and specific release date has not yet been set.
No Thank You, Evil! is not the first recent RPG designed for families with children. Last year Eden Studios released its game Adventure Maximus!, targeting a similar audience (see "'Kid-Friendly' RPG From Eden Studios").