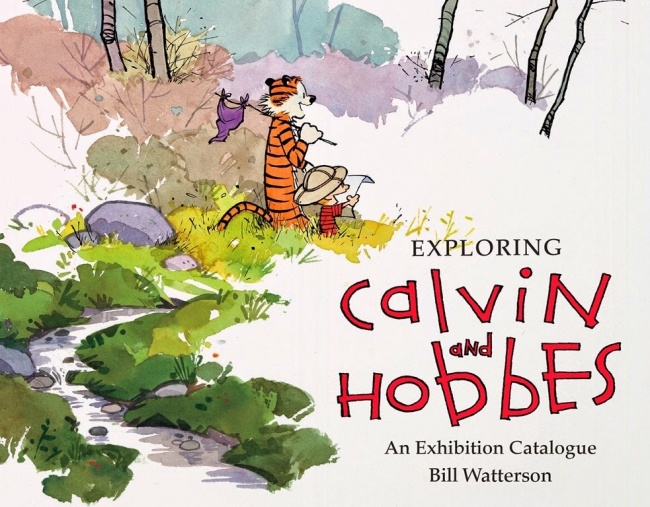 Exploring Calvin & Hobbes
, an exhibition catalog that contains a rare interview with creator Bill Watterson, was released in Mid-March and ended up at #3 on the list last month (see "
March 2015 BookScan-Top 20 Graphic Novels
"). But with a full month of sales in April, the cartoon catalog once again demonstrated the popularity of the
Calvin & Hobbes
property as it took the top spot in April, followed by two volumes of
The Walking Dead Compendium
, which benefited from the final episodes of the popular zombie series that aired during the last days of March on AMC.
Superhero titles, which numbered only two in March, made a comeback in April as eight titles with superhero ties made the list including Willow Wilson's second
Ms. Marvel
collection, which was the highest ranked of any of the new superhero books at #5, a continuing indication that the current vogue for female superheroes in the comic shop market is having a parallel effect in bookstores. The other "new" superhero book on the list was the Rick Remender-penned
Avengers: Rage of Ultron
, which undoubtedly benefited from the hype for Joss Whedon's
Avengers: Age of Ultron
movie (that debuted on May 1), even though Remender's book is not a movie tie-in (and requires a fair bit of knowledge of the current Marvel Universe). DK's
Marvel The Avengers: The Ultimate Guide
reappeared on the list in April, again as a direct result of the growing interest in Whedon's second
Avengers
film.
The other superhero books on the list, Alan Moore's
The Killing Joke
, Frank Miller's
Batman: The Dark Knight Returns
, Mark Millar's
Civil War
, and Moore's
Watchmen
are all perennial sellers that all do especially well in the bookstore market, where sales are in general a bit more backlist-oriented than in the direct market.
The number of manga titles in the top 20 was down from five in March to just four, led by the latest volume of
Attack on Titan
at #6. Yen Press' edition of the
Big Hero Six
manga was the lone new manga title on the April list at #11.
Congressman John Lewis placed two volumes of his civil rights memoir
March
in the Top 20 again.
March Book 1
was the top non-fiction title at #7, followed by Roz Chast's
Can't We Talk About Something More Pleasant?
at #9, and
March Book 2
at #13. Alison Bechdel's memoir
Fun Home
returned to list at #18 doubtless due to a Broadway adaptation that should boost sales as long as it runs.
BookScan Top 20 Graphic Novels in April 2015

Rank

Title

Author

Publisher

1

EXPLORING CALVIN AND HOBBES: AN EXHIBITION CATALOGUE

BILL WATTERSON

ANDREWS MCMEEL

2

THE WALKING DEAD COMPENDIUM VOL. 1

ROBERT KIRKMAN

IMAGE COMICS

3

THE WALKING DEAD COMPENDIUM VOL. 2

ROBERT KIRKMAN

IMAGE COMICS

4

BATMAN: THE KILLING JOKE DLX ED

ALAN MOORE

DC COMICS

5

MS. MARVEL VOL. 2

WILLOW G. WILSON

MARVEL COMICS

6

ATTACK ON TITAN VOL. 15

HAJIME ISAYAMA

KODANSHA COMICS

7

MARCH: BOOK 1

JOHN LEWIS

TOP SHELF PRODUCTIONS

8

MARVEL THE AVENGERS: THE ULTIMATE GUIDE HC

ALAN COWSILL

DK PUBLISHING

9

CAN'T WE TALK ABOUT SOMETHING?: A MEMOIR HC

ROZ CHAST

BLOOMSBURY

10

BATMAN: THE DARK KNIGHT RETURNS

FRANK MILLER

DC COMICS

11

BIG HERO 6 VOL. 1

HARUKI UENO

YEN PRESS

12

NARUTO VOL. 69

MASASHI KISHIMOTO

VIZ MEDIA

13

MARCH: BOOK 2

JOHN LEWIS

TOP SHELF PRODUCTIONS

14

ATTACK ON TITAN VOL. 1

HAJIME ISAYAMA

KODANSHA COMICS

15

AVENGERS: RAGE OF ULTRON HC

RICK REMENDER

MARVEL COMICS

16

SAGA VOL. 4

BRIAN K. VAUGHAN

IMAGE COMICS

17

CIVIL WAR

MARK MILLAR

MARVEL COMICS

18

FUN HOME: A FAMILY TRAGICOMIC

ALISON BECHDEL

MARINER BOOKS

19

WATCHMEN

ALAN MOORE

DC COMICS

20

MARVEL ENCYCLOPEDIA: THE DEFINITIVE GUIDE HC

MATT FORBECK

DK PUBLISHING
For past BookScan Top 20 Graphic Novel lists, see the "BookScan Top 20 GN Index."