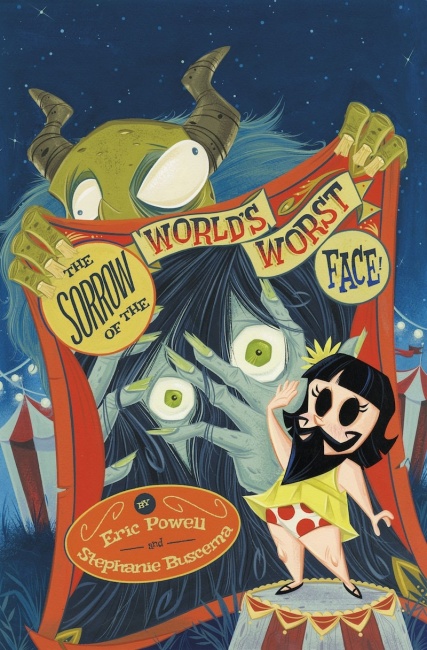 Comic-Con News:
Eric Powell's
Chimichanga
, which was nominated for an Eisner in 2012 (see "
2012 Eisner Award Nominees
"), returns in
The Sorrow of the World's Worst Face
, a four-issue series that is slated to debut in October from Dark Horse Comics. Wrinkle's Traveling Circus is back in town with another powerful, but humorous saga set among society's outcasts. Once again Stephanie Buscema (
Red Sonja
) collaborates with Powell on this new set of adventures featuring Lula and Chimichanga.
Eric Powell explained the theme of the new Chimichanga series: "Lula is such a bubbly and positive character, even though she lives in that setting. It's one of the things I wanted to do with the whole Chimichanga series — give kids the kind of character they don't normally get. Lula is a chubby little girl with a beard, so she's not your stereotypical kind of hero. She's completely cool with the way she is, and she's happy about it. I'm kind of playing against that with The Sorrow of the World's Worst Face because she comes into contact with someone who is the exact opposite and is pretty angry about it. I think that was the theme of this series."