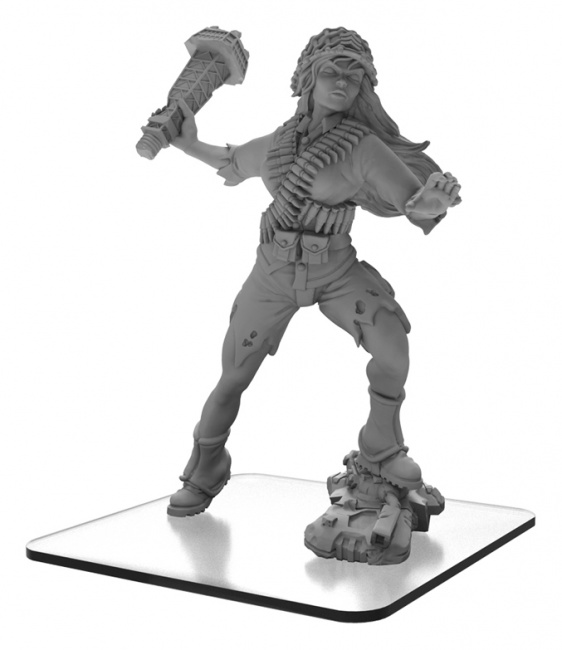 Privateer Press revealed new miniatures for
Monsterpocalyse
set to hit stores in March 2020.
The Green Fury monster known as Sergeant Titanica is a gigantic woman altered by scientists in their lab. This miniature was originally a convention exclusive, but now she has been set off into retail with a new sculpt that can be added to a Protectors force. This metal/resin miniature will retail for $21.99.
Globbicus is a mysterious Waste monster, hailing from the Chicago area, who has the remnants of a power plant embedded in it. It is a unique monster for a Destroyers force, and in alpha mode, it demolishes buildings to use the leftover debris as an Improvised Weapon. Globbicus is a metal/resin miniature set that will carry a MSRP of $34.99.
Scavenger Vans and Scrapper are Green Fury Units that are reinforcements for Protectors. The Scavenger Vans are armored vehicles that salvage ruined cities for resources while the Scrappers are support planes. This miniature set comes with 3 Scavenger Vans, an Elite Scavenger Van, and a Scrapper for the retail price of $27.99.
Toxos and Absorbers are more Waste units for Destroyer players. Toxxos are mindless ooze that destroys a given area, and the Absorbers gobble up materials to turn into Improvised Weapons. This box comes with 2 Toxxos, an Elite Toxxos, and 2 Absorbers at a MSRP of $29.99.
In addition to the new miniatures, Privateer is also offereing a Monsterpocalypse Crush Hour Prize Kit for tournament support. Each kit comes with a alternate scuplt Dice Saloon building and four foil Building cards. It is available to retailers with an MSRP of $19.99.
Privateer Press also announced more Monsterpocalypse units for January (see "More Monsters and Units for 'Monsterpocalypse'").
Click on Gallery below for full-size images!