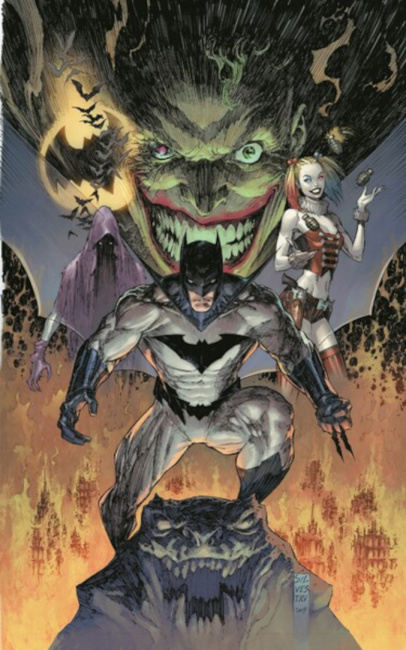 Image Comics partner Marc Sylvestri is returning to DC Comics, a publisher where he has worked rarely, and not for over 20 years, to write and draw a series starring two of DC's most important characters, Batman and The Joker, as they team up toward a shared goal, the company announced. DC will publish the seven-issue
Batman/The Joker: The Deadly Duo
under its Black Label mature-readers imprint, launching on November 1.
As the story opens, Harley Quinn has been abducted, Jim Gordon has disappeared, and strange Joker look-alikes are walking through Gotham City collecting severed heads. The Joker is desperate to rescue Harley, and when someone sends a package to Batman containing a piece of Gordon's flesh, The Joker suggests they team up.
The first issue will feature a main cover by Silvestri, variant covers of both Batman and The Joker by Greg Capullo, a 1:25 variant by Kyle Hotz, a 1:50 variant by Silvestri, a 1:100 variant by Jorge Fornes, and a 1:250 signed variant by Silvestri.
Issue #2 will be out on December 6 with a main cover by Silvestri, Batman and The Joker variants by Kelley Jones, another variant by Jim Lee, a 1:25 variant by Paquette, a 1:50 black and white variant by Silvestri, and a 1:100 variant by Christopher Mitten.
All covers are on card stock, and the MSRP for both issues is $4.99.
Click Gallery below for covers!