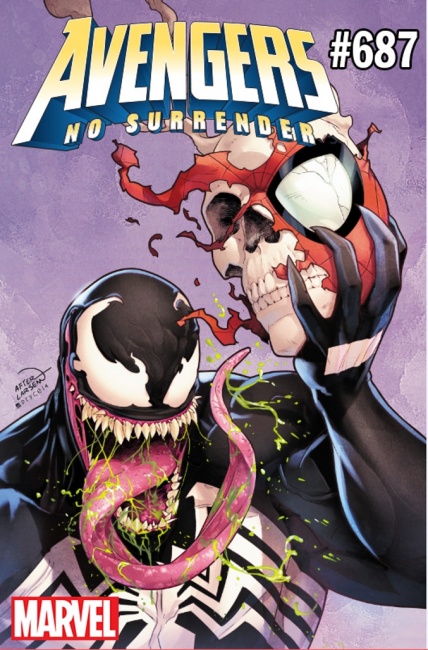 Get ready to celebrate Venom's 30th anniversary with 20 key moments showcasing the symbiote's epic history. These anniversary variant covers will feature art by some of the industry's top creators and rising stars, including Mark Bagley, Greg Horn, Rob Liefeld, Francesco Francavilla, Ron Lim, Inhyuk Lee and many more!
The first wave of
Venom Variant Covers
will be released in comic shops on March 7th. Collect all 20 variant covers:
1. All-New Wolverine #33 by Dustin Weaver
2. Amazing Spider-Man #798 by Terry and Rachel Dodson
3. Avengers #687 By Jamal Campbell
4.
Black Panther
#172 by Greg Horn
5.
Captain America
#700 by Kalman Andrasofszky
6. Daredevil #601 by Ramon Perez
7.
Doctor Strange
#388 by Chris Stevens
8. Infinity Countdown #2 by Ron Lim
9.
Invincible Iron Man
#599 by Akcho
10. Marvel 2-In-One #5 by Dave Johnson
11.
Mighty Thor
#706 by Mark Bagley
12. New Mutants #2 by Bengal
13.
Old Man Logan
#38 by Greg Smallwood
14.
Peter Parker: The Spectacular Spider-Man
#303 by Rob Liefeld
15. Thanos #18 by Mike Perkins
16. Venom #164 by John Tyler Christopher
17.
Weapon H
#2 by Mike Mayhew
18.
X-Men: Blue
#25 by Francesco Francavilla
19.
X-Men: Gold
#25 by Todd Nauck
20.
X-Men: Red
#3 by Inhyuk Lee
Click on the Gallery below to preview nine of the 20 "Venom 30th Anniversary Variant Covers."