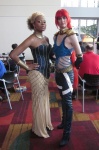 These photos from Gen Con 2012 can give those that weren't there a feel for the show, and those that were there some memories of what was. Notable photos in Part 1 include some of the hits from the show.
These two cosplayers were representing for the Genesis Project, they said.
Cardfight Vanguard CCG
, but it had sponsorship presence and was running games in the gaming halls.
Doctor Who
booth was packing them in.
Spartacus
, Gale Force 9's first board game, were full whenever we passed.
Spartacus
was also popular in afterhours gaming in the hotel lobbies, according to one industry insider.
Netrunner
was another of the hit releases at the show, both on the floor and in after hours gaming (observed by the same industry insider). FFG's Steve Horvath described the Netrunner response at the company's booth. "We had a huge rush on the booth yesterday [Thursday] during the VIG hour; half the copies we brought sold and then within 10 minutes of the main hall being open the rest blew out. That was the most product we've brought to a show besides
X-Wing
this year. We've never brought that many as an advance and it just blew out so fast. People were obviously upset about that and we hate disappointing people but that was all we could get from the container in LA to us directly at the show. It was in transit from LA to our warehouse. We were able to get a van to intercept it and get some more and drive all night. I am told it is here now and will be for sale first thing tomorrow [Saturday] morning. This is a classic game. We're big fans of the game, which is why we wanted to do it, and it's gotten a great reaction from people. We've just never seen a reaction to a product like this. It's amazing and we were thrilled. So now we're happy that we were able to get some more in and make sure people can get it."
Click here for
Part 2
.