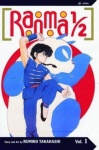 At Anime Expo Viz Media announced a number of key licenses including Kazuma Kondou and Jinsei Kataoka's
Deadman Wonderland
and Kosuke's
Gangsta
. In addition Viz will be re-releasing Rumiko Takahashi's perennially popular
Ranma ½
manga in omnibus editions, which for the first time in the U.S. will read in the traditional Japanese right-to-left format. Viz also announced the print debut of Noashi Komi's romantic comedy manga
Nisekoi
and new full color editions of Akira Toriyama's classic
Dragon Ball
.
Deadman Wonderland
is an action-packed survival saga, that Tokyopop began publishing, though the U.S. manga publisher went out of business after releasing just five of the series' 12 volumes. Viz Media will publish the first volume of
Deadman Wonderland
next February and will publish new volumes every two months. A 12-episode anime adaptation of
Deadman Wonderland
has been released here by Funimation—and the series aired on the Cartoon Network's Adult Swim.
Kosuke's
Gangsta
manga, which began in 2010, is a tough
seinen
series that will probably be rated 17+. Set in a corrupt city, this violent saga follows the exploits of Nick and Worrick, two neighborhood hit men who take on assignments for both local gangsters and the police.
According to the
Anime News Network
, Viz will ship the first volume of the romantic comedy
Nisekoi
manga in January of 2014. The series is currently running in the digital edition of
Shonen Jump
, and Viz plans to release a new print volume every two months.
The
Dragon Ball Full Color Editions
will debut in February of 2014. These volume will carry a cover price of $19.99 and will be in a larger format closer in size to typical American graphic novels than the standard manga trim.
The
Ranma ½
reprints will debut in March of 2014. Each omnibus volume of this series, which was a huge hit during the original U.S. manga boom, will include two of the original
Ranma
manga volumes and will carry a cover price of $14.99. Viz plans to release a
new Ranma ½ Omnibus
volume every two months after the new right-to-left format edition debuts in March.