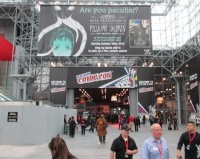 Here's the story of New York Comic Con in pictures, beginning with the Thursday preview night. The show is now as big as San Diego Comic Con (see "
NYCC as Big as San Diego Comic Con
"). To see the Friday photos, go to
Part 2
and
Part 3
.
NOTE: Any image can be clicked for a larger view.
The main entrances to the exhibit hall before opening on Thursday, with a gigantic Yen sponsorship for
Miss Peregrine's Home for Peculiar Children: The Graphic Novel
dominating the space.
Call of Duty
sets.
The Walking Dead
exhibit went vehicular.
Gundam--
promoting the
Mobile Suit Gundam Seed Remaster Project
.
Zero Charisma
star Sam Eidson and directors Katie Graham and Andrew Matthews answered questions after the Thursday night screening of the film, which is getting a limited theatrical release by Nerdist and Tribeca. That's a long way to go for a film funded for $25,000 on IndieGoGo.
Click here
for Part 2.