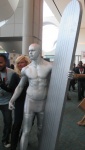 Here's the story of San Diego Comic-Con International in pictures, this group from Saturday. To go back to the beginning of our series, see
Part 1
. To check out Friday, see
Part 3
.
[NOTE: Any image can be clicked for a larger view.]
The six-pack might be painted on, but still, Silver Surfer, looking good for the show.
Ant-Man
(see "
Simon Pegg Laments 'Ant-Man' Director Change
").
Oculus Rift
experience on the floor. In this one, at the Legendary booth, fans were able to experience life as a jaeger pilot. We tried this one, and agree with our E3 report by columnist Rob Salkowitz (see "
E3 Report: The Future's So Bright You've Got to Wear Goggles
") that the new virtual reality devices and software have the potential to transform entertainment.
My Little Pony Friendship is Magic
, but carrying a Hello Kitty bag seems incongruous.
Thunderbirds Are Go!
series (see "
'Thunderbirds' Gets Series Order
"), brought this ship.
Adventure Time
.
Comic-Con 2014 Photos--Part 6
").
Gotham
zipline, promoting the new TV show, took riders past the skyline. The Marriott, in the distance at the other end of the Convention Center, was wrapped for
Legends
.
Ever After High
, and Catty Noir from
Monster High
, both Mattel characters.
Click here
for Part 8.