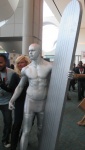 Here's the story of San Diego Comic-Con International in pictures, this group from Saturday. To go back to the beginning of our series, see
Part 1
. To check out Friday, see
Part 3
.
[NOTE: Any image can be clicked for a larger view.]
The six-pack might be painted on, but still, Silver Surfer, looking good for the show.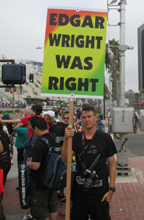 Like Simon Pegg, this guy was apparently not happy with the director change on
Ant-Man
(see "
Simon Pegg Laments 'Ant-Man' Director Change
").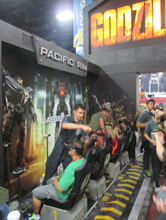 A third
Oculus Rift
experience on the floor. In this one, at the Legendary booth, fans were able to experience life as a jaeger pilot. We tried this one, and agree with our E3 report by columnist Rob Salkowitz (see "
E3 Report: The Future's So Bright You've Got to Wear Goggles
") that the new virtual reality devices and software have the potential to transform entertainment.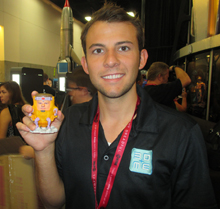 3D Systems, the 3D printer and software company that acquired Gentle Giant Studios, the leading provider of 3D modeling for the entertainment and toy industries, in January, was visible in the Gentle Giant booth with 3D scanning equipment and 3D printers that allowed them to scan fans' faces and 3D-print them onto figures, as with this example of a staff member.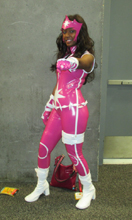 We sense a power blast, coming our way from Star Sapphire!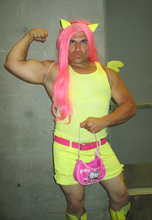 He could be Fluttershy from
My Little Pony Friendship is Magic
, but carrying a Hello Kitty bag seems incongruous.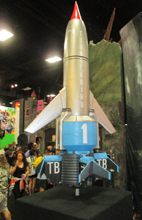 Effects house Weta Workshop, one of the partners in the new
Thunderbirds Are Go!
series (see "
'Thunderbirds' Gets Series Order
"), brought this ship.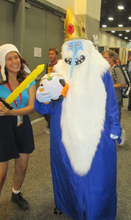 Finn and the Ice King from
Adventure Time
.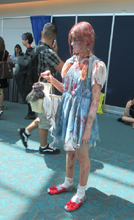 Zombie Dorothy and Toto, perhaps the most disturbing thing since zombie Teletubbies (see "
Comic-Con 2014 Photos--Part 6
").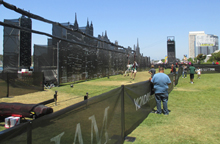 This
Gotham
zipline, promoting the new TV show, took riders past the skyline. The Marriott, in the distance at the other end of the Convention Center, was wrapped for
Legends
.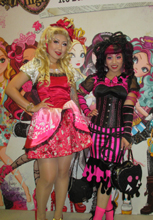 Apple White from
Ever After High
, and Catty Noir from
Monster High
, both Mattel characters.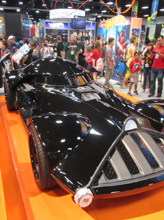 Also at Mattel, in the Hot Wheels space, the Darth Vader car.
Click here
for Part 8.