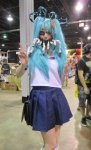 We continue our coverage of Wizard World Chicago Comic Con with this second set of photos. To start from the beginning, go back to Part 1.
Cosplay as a vocaloid, an increasingly common occurrence.
Skylanders.
Ghostbusters
may be a bigger part of the zeitgeist than ever.
Superfight
.
To End All Wars
at the booth of Distribution Engine, set up to distribute smaller press British graphic novels to the U.S. comic store market.
Gen Con 2014 Photos--Part 1
").
Kill Bill
crew joined by a female Indiana Jones.
Go back to
Part 1
.