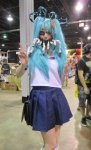 We continue our coverage of Wizard World Chicago Comic Con with this second set of photos. To start from the beginning, go back to Part 1.
Cosplay as a vocaloid, an increasingly common occurrence.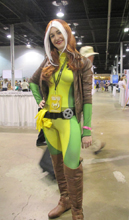 It was nice that the Rogue was around when you needed her.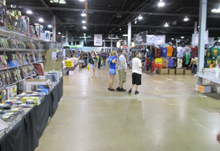 The bane of the Wizard World Comic Con-goer: uncarpeted concrete aisles.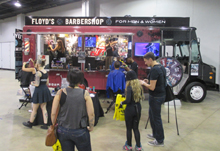 Not only was it a barber shop at a comic convention, it was busy!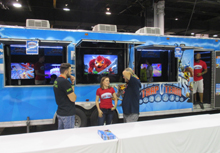 Activision was there with a mobile unit promoting
Skylanders.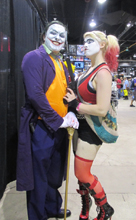 The Joker and Ms. Quinn.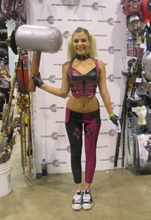 Harley Quinn at the costume booth.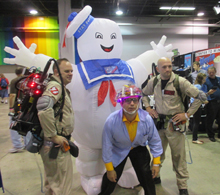 Ghostbusters
may be a bigger part of the zeitgeist than ever.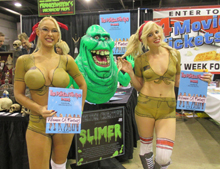 Leyna and Laura modeling to promote the Painted Pin-Ups calendar.
Skybound was there promoting its new game
Superfight
.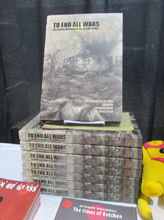 To End All Wars
at the booth of Distribution Engine, set up to distribute smaller press British graphic novels to the U.S. comic store market.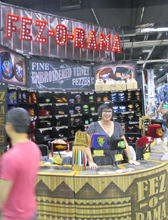 Fez-o-Rama, the ultimate niche apparel booth, direct from Gen Con the week before (see "
Gen Con 2014 Photos--Part 1
").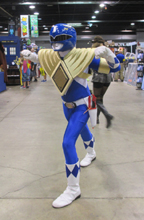 A nice-looking Power Ranger.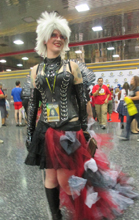 This silver haired cosplayer was sporting a VIP badge.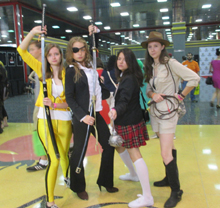 The
Kill Bill
crew joined by a female Indiana Jones.
Go back to
Part 1
.