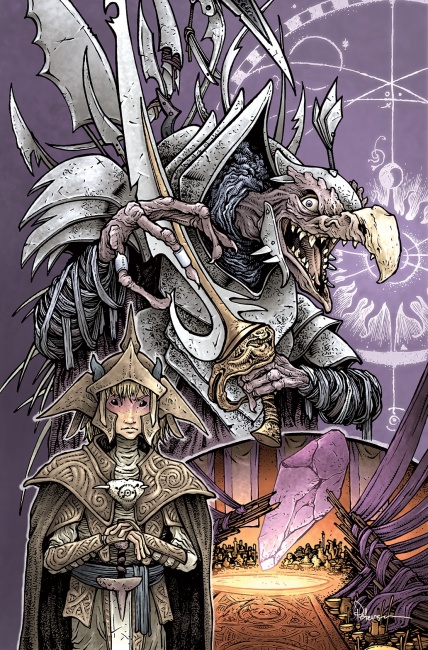 BOOM! Studios' Archaia imprint and The Jim Henson Company have announced
The Power of the Dark Crystal,
a comic book sequel to the beloved 1982 family film.
The Power of the Dark Crystal is based on the screenplay by David Odell, Annette Odell, and Craig Pearce that was intended to be a sequel to The Dark Crystal. The screenplay has been adapted by Eisner Award-nominated Simon Spurrier (The Spire, 2000 AD, Crossed: Wish You Were Here). The series is illustrated by Kelly and Nichole Matthews (Toil and Trouble, Lumberjanes/Gotham Academy). The main cover for issue #1 is drawn by Jae Lee with June Chung. A subscription cover will be provided by Sana Takeda (Monstress), an incentive cover by David Petersen (Mouse Guard) and a foil incentive cover by Jae Lee and June Chung. The 12-issue limited series will launch on February 15.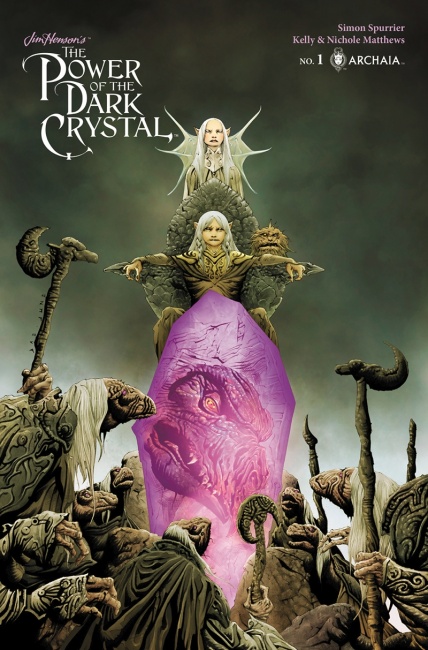 The series takes place several decades after the original film. Jen and Kira have rules Thra from the Crystal Castle, and although they have brought Gelfings back to the land, they have lost their connection to the world and her people. A young Fireling girl, Thurma, arrives, determined to obtain a shard of the Dark Crystal to restore power to her realm. Her actions accidentally bring back the Skeksis and Mystics.
"The Power of the Dark Crystal is an all-new chapter in the world of Jim Henson's classic film," said BOOM! Studios Editor-in-Chief Matt Gagnon. "We're thrilled to bring aboard series artists Kelly and Nichole Matthews, a spectacular art team who will pay homage to Brian Froud's incredible designs of the Skeksis, Gelflings, and a new cast of characters/creatures called the Firelings. Writer Simon Spurrier, a longtime fan of Henson—and one of our favorite writers—brings new life, color, and intrigue to this beloved world."
The original dark fantasy adventure film was directed by Jim Henson and Frank Oz, and stared the voices of Stephen Garlick, Lisa Maxwell, Billie Whitelaw, and Percy Edwards. The screenplay was written by David Odell, who worked as a staff writer on Henson's The Muppet Show. The animatronics used in the film were groundbreaking for the time. Fantasy illustrator Brian Froud was the concept artist for the film.
Archaia has been partnering with The Jim Henson Company since 2009 (see "Archaia & Henson Forge Deal." This fall Archaia released several comics and books based on Labyrinth (see "Archaia Releasing 'Labyrinth' Comics"). A new story in Jim Henson's The Storyteller series, Giants, will release in December (see "BOOM! Studios' Road to NYCC Announcements").