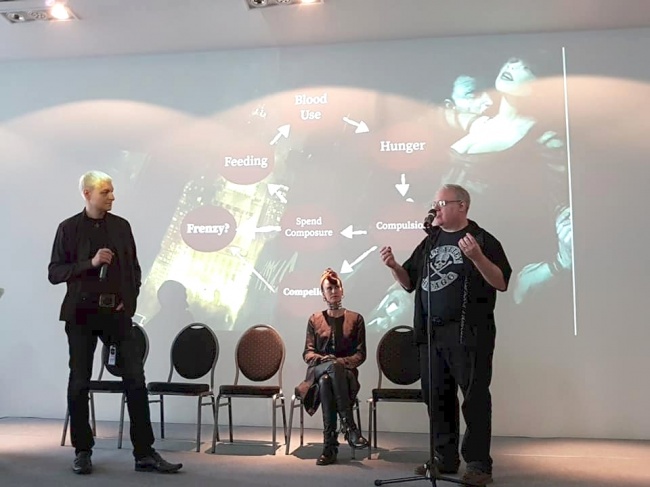 At World of Darkness - Berlin, White Wolf Publishing announced the development team for its upcoming
Vampire – The Masquerade 5th Edition
role playing game
,
including gaming industry veteran Kenneth Hite in the role of Lead Designer.
White Wolf posted the news on social media during the keynote address. The Vampire: The Masquerade 5E team includes Hite as Lead Designer, Mary Lee as Art Director, Karim Muammar as Playtest Designer / Editor in Chief, Martin Ericsson as Lead Storyteller, and Jason Carl as Producer.
Hite has been designing games full-time since 1995. He worked on Last Unicorn Games' "Icon system" for the company's line of licensed Star Trek role playing games. He later worked for Steve Jackson Games and wrote GURPS WWII: Weird War II. He has credits on GURPS Infinite Worlds, which won the Origins Award in 2005 for Role Playing Game Supplement of the Year. He was also one of many authors to make contributions to Gamemastering Secrets which won the Origins Award in 2002 for Best Game Aid or Accessory. He shares two 2011 Origins Awards with the production team on the Dresden Files RPG for Best Roleplaying Game and Best Game Supplement (Dresden Files: Our World) (see "2011 Origins Award Winners").
Vampire: The Masquerade 5th Edition is planned for release in Q1 of 2018 (see "New Editions of 'Vampire' and 'Werewolf' RPGs").